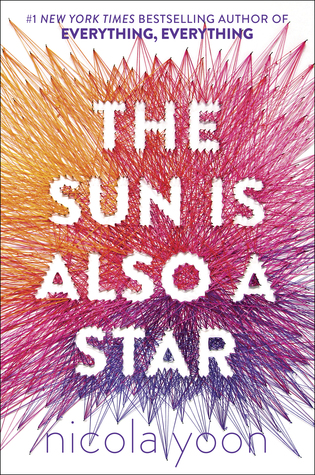 Publication Date: November 1, 2016
Publisher: Delacorte Press
Genre: Young Adult Contemporary
Format: Hardcover
Pages: 344 pages
Source: Purchased
Buy It: Amazon | Book Depository
Rating: 
Natasha: I'm a girl who believes in science and facts. Not fate. Not destiny. Or dreams that will never come true. I'm definitely not the kind of girl who meets a cute boy on a crowded New York City street and falls in love with him. Not when my family is twelve hours away from being deported to Jamaica. Falling in love with him won't be my story.
Daniel: I've always been the good son, the good student, living up to my parents' high expectations. Never the poet. Or the dreamer. But when I see her, I forget about all that. Something about Natasha makes me think that fate has something much more extraordinary in store—for both of us.
The Universe: Every moment in our lives has brought us to this single moment. A million futures lie before us. Which one will come true?
---
This isn't a three stars book but isn't quite a two and a half. More like a 2.75, but I don't really like to rate books that way, haha. I think the reason I had a hard time rating this is because of how much I loved the writing and the style that it was written in. I wanted to give it a high rating for that reason, but I can't ignore the issues I had with it.
I really wanted to love this book. I did. I like the idea of love at first sight, and I think it was handled fairly well in this novel. Although, I did feel like Daniel was a little obsessed with Natasha and that made me a little uncomfortable.
I loved the diversity represented throughout the novel, with the two main characters being a Jamaican immigrant and a Korean American. I appreciated that it dealt with issues regarding immigration.
However, I absolutely hated the characters. There was not a single character in this book that I liked, and that's a big thing for me. I have to like the characters that I'm reading about (or at least appreciate the roles that they play throughout the story). I found both of the main characters to be extremely selfish and not at all open-minded toward how the other thought/believed.
I didn't really appreciate how the differences in belief between the two main characters all of the sudden basically became a nonissue. Especially when it was such a big deal between through the first 75% of the novel.
Overall, I didn't really enjoy this book between disliking the characters and not really connecting to the romance. I think it just wasn't the book for me, and that's okay. I still would recommend picking it up and giving it a chance. I've heard a lot of people have really loved it and I'll say it again, Yoon's writing is fantastic. This won't be my last book by her.
*The image and synopsis were both taken from Goodreads. Clicking on the "add to Goodreads" image above will take you to the Goodreads page for this book.*