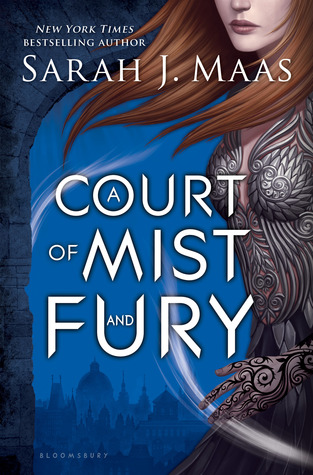 *WARNING: Possible spoilers for the previous book.*
Publication Date: May 3, 2016
Publisher: Bloomsbury USA Childrens
Genre: New Adult Fantasy
Series: A Court of Thorns and Roses Series, Book Two
Format: Hardcover
Pages: 624 pages
Source: Purchased
Buy It: Amazon | Book Depository
Rating:
Feyre survived Amarantha's clutches to return to the Spring Court—but at a steep cost. Though she now has the powers of the High Fae, her heart remains human, and it can't forget the terrible deeds she performed to save Tamlin's people.
Nor has Feyre forgotten her bargain with Rhysand, High Lord of the feared Night Court. As Feyre navigates its dark web of politics, passion, and dazzling power, a greater evil looms—and she might be key to stopping it. But only if she can harness her harrowing gifts, heal her fractured soul, and decide how she wishes to shape her future—and the future of a world torn apart.
---
"No one was my master— but I might be master of everything, if I wished. If I dared."
I hope you are prepared for the length of this gush review, because I think it's going to be a really long one. Now, when I read A Court of Thorns and Roses last year, I absolutely loved it. So going into this book, I had extremely high expectations, and this book just blew me away. It was a thousand times better than the first. Now let me see if I can figure out where to start…
Feyre and all of the character development in this novel. Feyre's character development in this novel is on point. Something that has always bothered me about fiction is when a character goes through something extremely traumatic and comes out pretty much unscathed emotionally. It's not realistic and it's not believable. Feyre, on the other hand, has a very real case of PTSD and it was done so well. It was such a refreshing thing to see, that the events Under the Mountain were haunting her. It made her character believable.
It wasn't just her character development though. It was everyone in this novel except maybe Tamlin, the little asshat. I love that she came to the realization throughout this novel that she didn't need someone to protect her. That she was perfectly capable of protecting herself, that she is a strong woman. And I loved that she was so unapologetic about it.
Rhysand's character was everything that I wanted and more. I love that he's this funny, flirty, playful guy. But under all of that, is someone who is brave and selfless and who honestly just wants the best for everyone that he loves. I love his backstory, and the reasoning he has for doing everything. The banter between Rhysand and Feyre gave me life. I live and breathe Feysand, I'm just saying.
It also helps that he's pretty much the complete opposite of Tamlin. He doesn't try to hold Feyre back. He's able to find a way to care for her and not be controlling or overprotective or take on the typical male role of "savior". He just wants someone who is his equal, and I love and respect his character so much for that fact.
The night court. Every single thing about it. I don't really think I expand on this a whole lot without a few spoilers, so I won't say too much. I think it's safe to mention that I love his inner circle. All of the new characters that are introduced, the new places, it was all wonderful.
It made me see the first book in a new light. More specifically, Feyre's relationship with Tamlin. It really showed the flaws in their relationship, and in Tamlin and Lucien's relationship. It also shined light on some of Tamlin's actions in the first book, that I don't think I looked at properly when I read it. Which is definitely my fault, but I'm glad I was able to see things from a different side. Like his actions Under the Mountain.
Speaking of Tamlin the asshat. I absolutely hate his character. I find it amazing that he was absent for about 80% of this novel and I was able to hate him so wholly. I cannot tell you why without spoiling certain events in the novel. I can tell you he's a control freak, because that obviously hasn't changed from the first novel. But that just multiples tenfold in this second book.
The plot was also really amazing. It revolves a lot around Feyre coming to terms with the person that she is now, and this new threat to their world. Not only the Fae world, but the human world also. Feyre is obviously really close to both of those things, so it's something that is really important to her. It was also really nice to see some of the loose strings from the first book tied together in A Court of Mist and Fury. Then also some strings that I hadn't even realized were still loose, that were tied together and made a lot more sense after reading this book.
I loved that Maas made his novel about growth. Not only about specific character growth, but just growth in general. She really showcased the way that what people need and what they want can change over time. We don't always want the same things for years and years, and the things that we experience in life can change the things that we need or want. She wasn't shy about showing this, and I loved it.
And last but certainly not least, that ending. Oh my lordy how am I ever going to survive until next May? I don't know how to put into words how much I need the next book right now.
I mean, if it wasn't obvious, I would definitely recommend you pick up this book. Even if you didn't like the first book. This second book was ten thousand times better than the first.
*The image and synopsis were both taken from Goodreads. Clicking on the "add to Goodreads" image above will take you to the Goodreads page for this book. The gif in this review came from a Google image search.*