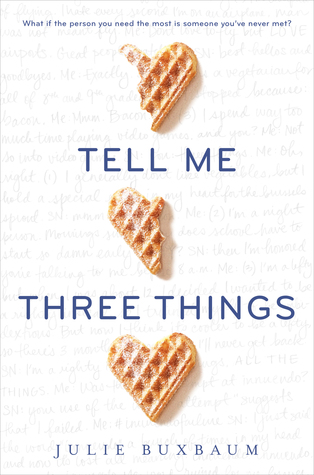 Publication Date: April 5, 2016
Publisher: Delacorte Press
Genre: Young Adult Contemporary
Format: Hardcover
Pages: 336 pages
Source: Purchased
Buy It: Amazon | Book Depository
Rating: 
Everything about Jessie is wrong. At least, that's what it feels like during her first week of junior year at her new ultra-intimidating prep school in Los Angeles. Just when she's thinking about hightailing it back to Chicago, she gets an email from a person calling themselves Somebody/Nobody (SN for short), offering to help her navigate the wilds of Wood Valley High School. Is it an elaborate hoax? Or can she rely on SN for some much-needed help?
It's been barely two years since her mother's death, and because her father eloped with a woman he met online, Jessie has been forced to move across the country to live with her step monster and her pretentious teenage son.
In a leap of faith—or an act of complete desperation—Jessie begins to rely on SN, and SN quickly becomes her lifeline and closest ally. Jessie can't help wanting to meet SN in person. But are some mysteries better left unsolved?
---
"One of the worst parts about someone dying is thinking back to all those times you didn't ask the right questions, all those times you stupidly assumed you'd have all the time in the world. And this too: how all that time feels like not much time at all."
I read, Tell Me Three Things, in one day. If that doesn't tell you this is a fantastic story, let me try another approach.
This book was such a surprise. I picked it up on a whim, not knowing much about it, because I was in the mood for some light contemporary. And while this was very much what I wanted it to be, it was also so much more than that. I related to our main character Jessie's story in a very personal way, and perhaps that had something do with why I enjoyed it so much.
There were so many amazing, quotable moments in this novel. But there were two in particular that stuck with me. The first is the quote that I put at the top of this review, the second is this one:
"She will never see who I grow up to be-that great mystery of who I am and who I am meant to be-finally asked and answered."
I lost my father when I was sixteen, almost seventeen years old. And let me tell you, this quote right here explains everything I haven't been able to say. It speaks levels to the way that I felt like he had missed out on so much and in a way, he did. We both did. He wasn't there for my high school graduation, and he didn't walk me down the aisle at my wedding. But it was more than that, he's missing out on getting to know the person that I am and will be. And I'm missing out on getting to the know who he was, and that sucks.
Now that I've talked about how I related to the story in a personal way, we'll talk about the other things I enjoyed about this novel.
The relationship between Jessie and her anonymous friend, SN, was done so incredibly well. I absolutely loved the way that these two characters connected. The romance is spectacular. There is no love triangle, which is wonderful. But those things, those things aren't even the best things about this book. Hands down, the best part of this novel is the main character, Jessie.
I absolutely loved Jessie. I think she comes off as a very realistic teenage girl. Her pain and fear and anger all felt so real and were incredibly relatable. It's always a refreshing thing to find a character whom you can relate to so wholly. Granted, I am no longer a teenage girl, but she reminded me so much of myself and the things that I felt in high school and I loved it.
One of the big aspects of this novel was Jessie trying to move on with her life after the death of her mother. Her father has up and moved her to an entirely different state. Out of the home that she grew up in, away from the friends she has had forever. That's tough, especially when you're a teenager. Moving somewhere new and trying to find where you fit in is not an easy task. I think she handles these things very well.
Overall, I would definitely recommend this book. I think it was a fantastic, light contemporary novel with a likable and relatable main character. With a hint of some deeper aspects.
*The image and synopsis were both taken from Goodreads. Clicking on the "add to Goodreads" image above will take you to the Goodreads page for this book.*