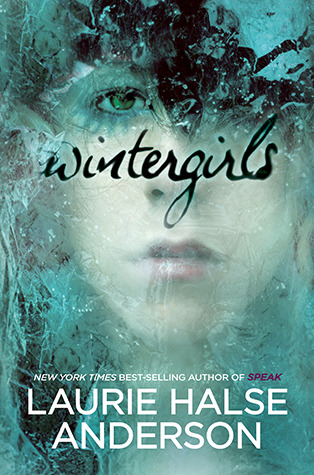 Publication Date: March 19, 2009
Publisher: Viking Books for Young Readers
Genre: Young Adult Contemporary
Format: Hardcover
Pages: 278 pages
Source: Purchased
Buy It: Amazon | Book Depository
Rating: 
"Dead girl walking", the boys say in the halls.
"Tell us your secret", the girls whisper, one toilet to another.
I am that girl.
I am the space between my thighs, daylight shining through.
I am the bones they want, wired on a porcelain frame.
Lia and Cassie are best friends, wintergirls frozen in matchstick bodies, competitors in a deadly contest to see who can be the skinniest. But what comes after size zero and size double-zero? When Cassie succumbs to the demons within, Lia feels she is being haunted by her friend's restless spirit.
---
"There is no magic cure, no making it all go away forever. There are only small steps upward; an easier day, an unexpected laugh, a mirror that doesn't matter anymore."
I've had a really hard time trying to put my thoughts on this book into words. This is one of the few books that I've read that deals with the subject of eating disorders. On one hand, the story is good. It is shocking and it has a fantastic message. It was difficult for me to put myself into Lia's shoes because I've never dealt with an eating disorder. I am a woman, so I have dealt with the expectations of society and what that can do to the expectations we have for and of ourselves, so I could relate on that note.
However, I have never had an eating disorder. So it was interesting and kind of scary seeing the inner monologue of our main character who deals with anorexia. And I'm not just talking about the self-control that it takes to convince yourself not to eat, but the way that she sees food and the people who try to help her. I guess it was a little bit of everything.
As with Speak, I really loved Laurie Halse Anderson's writing. I think she has a very poetic and unique way of writing, which is generally something I really love. Especially in stories that deal with heavier topics. Her writing format in this novel did change quite often, and I could see why that would be bothersome, but for me personally, it worked well.
With all of that being said, I had a hard time connecting to the characters. Especially the main character, and I'm not sure if that was just me or the way she was written. Lia is kind of an empty void, which considering everything that she is dealing with, makes sense. I'm not really sure here, I just didn't connect with her the way I was expecting to. Then there was Elijah's character. For the most part, I do not understand the purpose of his character. I think there was quite a lot of potential there, and that it was wasted.
Overall, I think it's a very thought-provoking novel. It was good, but I wish I would have connected with it a bit more. If you think you'd connect with it better than I did, then I would definitely suggest giving it a chance.
*The image and synopsis were both taken from Goodreads. Clicking on the "add to Goodreads" image above will take you to the Goodreads page for this book.*