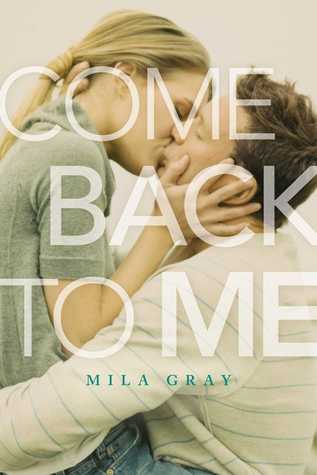 Publication Date: December 8, 2015
Publisher: Simon Pulse
Series: The Come Back to Me Duology, Book One
Genre: New Adult Contemporary
Format: Hardcover
Pages: 352 pages
Source: Purchased
Buy It: Amazon | Book Depository
Rating: 
When a Marine Chaplain knocks on her door, Jessa's heart breaks—someone she loves is dead. Killed in action, but is it Riley or Kit? Her brother or her boyfriend…
Three months earlier, Marine Kit Ryan finds himself back home on leave and dangerously drawn to his best friend Riley's sister, Jessa—the one girl he can't have. Exhausted from fighting his feelings, Kit finally gives in, and Jessa isn't strong enough to resist diving headfirst into a passionate relationship.
But what was just supposed to be a summer romance develops into something far greater than either of them expected. Jessa's finally found the man of her dreams and Kit's finally discovered there's someone he'd sacrifice everything for.
When it's time for Kit to redeploy, neither one is ready to say goodbye. Jessa vows to wait for him and Kit promises to come home to her. No matter what.
But as Jessa stands waiting for the Marine Chaplain to break her heart, she can't help but feel that Kit has broken his promise…
Riley or Kit? Kit or Riley? Her brother or her boyfriend? Who's coming home to her?
---
This book was so much more than I expected it to be. In every way possible. It is jammed packed full of feelings, and yes, I may have cried a little bit. So sue me. I think I was expecting this to be pretty much strictly fluff, and don't get me wrong, there was plenty of fluff. But it had so many other beautiful layers to it.
I'll start by saying that I don't know what it's like to have close relatives go off to war. Neither of my parents were in the military, and my sister wasn't either. I have had a friend here and there, but they've all come home. There's always my brother, but he's only ten, so we'll give him a little more time for that decision. So the very topic of this book is not something I can relate to personally. That being said, the author does a fantastic job of making it feel so very real and personal.
I found the characters to be really enjoyable. Jessa was this sweet, kind of sheltered heroine, who really just wanted to be her own person. However, she also struggled with wanting to keep herself in her father's good graces by doing what he wanted her to. Then there was Kit, who not only was a fantastic, swoon-worthy romantic interest, but also this person who helped Jessa become the person she wanted to be. I just loved that they were both two genuinely good people.
Then there were the side characters. I loved Riley in all of his aloofness as to what was going on, but also that his reactions to certain events throughout the novel just seemed so real to me. I love when the characters of a novel all feel like they're there for a reason. No one in this novel felt out of place or like they didn't need to be there. They all added something to the story.
Then, of course, there is the forbidden romance. I'm a sucker for forbidden romance, hands down. I'm not sure what it is, but I think it has to do with the idea that love doesn't care who you are or what your situation is. It just exists. You can't help who you love, right?
It's forbidden for a couple of reasons. First, there is Jessa's father, who hates Kit. And then there is Riley, her brother, who is Kit's best friend. There is a whole backstory later on in the novel, that really tied it all together and gave it quite a bit of depth. There are some funny scenes involving the brother Riley, and his ignorance of the relationship which had me literally laughing out loud.
And on top of all that, is a first chapter that has you hooked from the start. All you want to know at the end of that chapter is what happened. So you read, and you keep reading until the book is finished and you want to cry because you're both happy and sad.
Overall, I would most definitely recommend this novel. For the first few weeks after finishing it, all I could do was think about rereading it. Now that it's been a few months since I read it, I may just do that. It's one of those books that just leaves a mark. Also, apparently there's a sequel? I believe it follows different characters, but I'm still interested in reading it!
*The image and synopsis were both taken from Goodreads. Clicking on the "add to Goodreads" image above will take you to the Goodreads page for this book.*