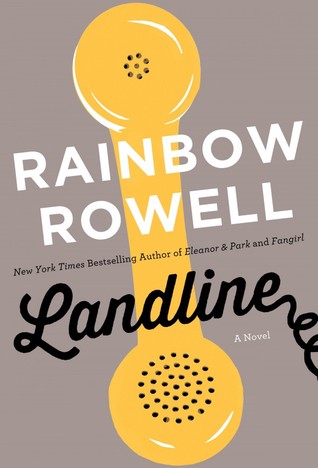 Publication Date: July 8, 2014
Publisher: St. Martin's Press
Genre: Adult Contemporary
Format: Hardcover
Pages: 310 pages
Source: Purchased
Buy It: Amazon | Book Depository
Rating: 
Georgie McCool knows her marriage is in trouble; it has been in trouble for a long time. She still loves her husband, Neal, and Neal still loves her, deeply — but that almost seems beside the point now.
Maybe that was always beside the point.
Two days before they're supposed to visit Neal's family in Omaha for Christmas, Georgie tells Neal that she can't go. She's a TV writer, and something's come up on her show; she has to stay in Los Angeles. She knows that Neal will be upset with her — Neal is always a little upset with Georgie — but she doesn't expect him to pack up the kids and go home without her.
When her husband and the kids leave for the airport, Georgie wonders if she's finally done it. If she's ruined everything.
That night, Georgie discovers a way to communicate with Neal in the past. It's not time travel, not exactly, but she feels like she's been given an opportunity to fix her marriage before it starts…
Is that what she's supposed to do?
Or would Georgie and Neal be better off if their marriage never happened?
---
Rainbow Rowell is an amazing writer. She has such a talent for creating realistic characters. I always feel like I can see a little of people I know in her characters, and it helps me to relate to them, which is really nice. I really enjoyed that both Georgie and Neal had very unlikeable characteristics about them. Not that they were unlikeable, just traits or certain things they did. But I think that it added another sort of realness to them. Face it, we as humans have some shitty qualities too. She does a fantastic job with making dialogue hilarious and enjoyable and having it all flow so smoothly.
The concept for this book was really neat. A magical phone in which she can talk to her husband's past self. None of her other contemporary novels have any kind of magic realism in them, but she did this one fairly well. However, I do feel like it was one thread that was left kind of hanging open at the end.
There were also some flashbacks in this novel that I think worked really well. I'm a fan of flashbacks, though I know not everyone is, I enjoy seeing some of the past. Especially if it helps to make sense of things that have happened in the present part of the novel. These flashbacks definitely helped to make you understand Georgie and Neal's relationship. Not to mention that it was cute seeing them in their younger years.
I think this story is very thought provoking in the sense that it brings forth the realization that people change over time. You aren't always going to be the person that you were twenty years ago. And you aren't always going to treat people the way that you did twenty years ago. Along with that, the whole stay at home father aspect was enjoyable also. It's fairly atypical, and it was nice to see.
That being said, I didn't like that Georgie was trying to choose between her family and her work or that she had to apologize for pursuing her dreams. Like, you can have both. You just need to make sure you're putting effort into both. I feel like Rowell left a few loose ends at the conclusion of this novel. That's not always a bad thing, but in this case I just really wanted those tied up.
Overall, I would definitely recommend this book. I love Rainbow's writing, it's beautiful and relatable and pretty much everything I love in a contemporary author.
*The image and synopsis were both taken from Goodreads. Clicking on the "add to Goodreads" image above will take you to the Goodreads page for this book.*