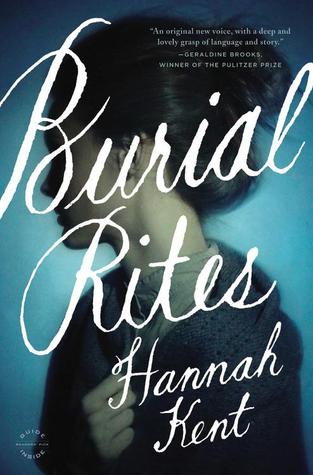 Publication Date: September 2013
Publisher: Little, Brown and Co.
Genre: Adult Historical Fiction
Format: Hardcover
Pages: 322 pages
Source: Purchased
Buy It: Amazon | Book Depository
Rating: 
Set against Iceland's stark landscape, Hannah Kent brings to vivid life the story of Agnes, who, charged with the brutal murder of her former master, is sent to an isolated farm to await execution.
Horrified at the prospect of housing a convicted murderer, the family at first avoids Agnes. Only Tóti, a priest Agnes has mysteriously chosen to be her spiritual guardian, seeks to understand her. But as Agnes's death looms, the farmer's wife and their daughters learn there is another side to the sensational story they've heard.
---
Burial Rites was such a beautiful and interesting story. It is almost everything I expected it to be. I highly recommend going into the story knowing that it is bleak. There is no humor in this novel, but it fit the story that the author was telling so well. Kent's writing is so atmospheric of this as well. Her descriptions are wonderful, and her writing was very poetic at times. Especially in the sections that were told from Agnes's perspective. Those were hands down my favorite sections of the book.
It took me a little while to get into this book. Not because it wasn't good, or interesting in the beginning, because it most definitely was. It may have had something to do with the Icelandic names and words because I struggled thinking of how to pronounce them. Though this was completely my fault, as Kent does provide a pronunciation guide at the beginning of the book. However, I think it was mostly to do with the writing style. This novel is written in long chapters, which is fine, but each chapter shifted points of view from scene to scene. It took me awhile, but once I got used to the switches, I began to enjoy the story even more than before.
Sometimes, when an author switches between perspectives, things can get muddled. I was a little concerned this was going to happen. Especially since they switched within the same chapter, and there was no real indication as to who it was until you started to read. That was not at all the case with this novel. I had no issue discerning who was who when reading. Though it definitely helped that they were all in third person aside from Agnes.
The plot wasn't exactly what I was expecting it to be. I had pictured it more as a kind of mystery, or that maybe it was going to be them trying to prove her innocence throughout the novel. Which, I guess in a sense, it was. Perhaps just not to the degree that I was expecting it to be. That being said, I enjoyed watching the characters grow the more time they spent around Agnes. And I enjoyed learning more about Agnes and her past as the story progressed.
Overall, I would definitely recommend this novel. Especially if you enjoy historical fiction. Give this book a chance, and I believe you won't be disappointed.
*The image and synopsis were both taken from Goodreads. Clicking on the "add to Goodreads" image above will take you to the Goodreads page for this book.*