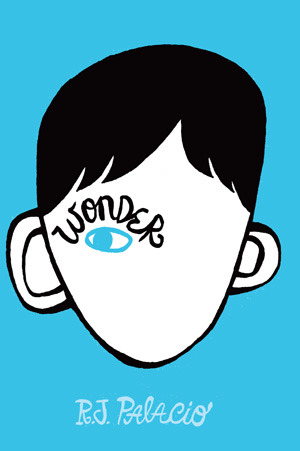 Publication Date: February 14, 2012
Publisher: Knopf
Genre: Middle Grade Contemporary
Format: Hardcover
Pages: 320 pages
Source: Purchased
Buy It: Amazon | Book Depository
Rating: 
I won't describe what I look like. Whatever you're thinking, it's probably worse.
August (Auggie) Pullman was born with a facial deformity that prevented him from going to a mainstream school—until now. He's about to start 5th grade at Beecher Prep, and if you've ever been the new kid then you know how hard that can be. The thing is Auggie's just an ordinary kid, with an extraordinary face. But can he convince his new classmates that he's just like them, despite appearances?
---
Wonder is such a fantastic story. It puts into perspective August's struggle as he attends not only school for the very first time, but middle school. I think it's safe to say that anyone who went to middle school knows what a tough time that is. Kids are mean, people are mean, growing up is difficult. Learning to navigate everything else in the middle of that is so incredibly difficult. August does this phenomenally well, along with the other characters in this novel.
August is such a brave and strong character. More so than I could ever hope to be. No matter what happened, or what people said, he always found a way to pick himself up again. And of course, not without the help of the people who love him. There were many likable qualities in August; his sense of humor and his spirit to name a couple. I don't have enough words to put down how much I truly love August's character.
One of the many things that I loved about this book was the family dynamic. The Pullman family is so tight-knit. From bedtime stories to lots of kisses. It was just a pleasing thing to read.
Overall, I would definitely recommend this novel. It has a great message on not treating people differently just because they don't look like you. Not only that, but it had a wonderful message about just being kind. This is a wonderful book that any age group could take something from.
*The image and synopsis were both taken from Goodreads. Clicking on the "add to Goodreads" image above will take you to the Goodreads page for this book.*