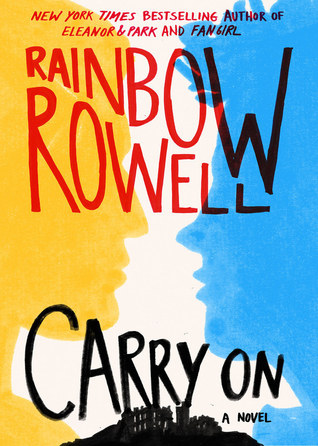 Publication Date: October 6, 2015
Publisher: St. Martin's Griffin
Genre: Young Adult Fantasy
Format: Hardcover
Pages: 522 pages
Source: Purchased
Buy It: Amazon | Book Depository
Rating: 
Simon Snow is the worst chosen one who's ever been chosen.
That's what his roommate, Baz, says. And Baz might be evil and a vampire and a complete git, but he's probably right.
Half the time, Simon can't even make his wand work, and the other half, he sets something on fire. His mentor's avoiding him, his girlfriend broke up with him, and there's a magic-eating monster running around wearing Simon's face. Baz would be having a field day with all this, if he were here—it's their last year at the Watford School of Magicks, and Simon's infuriating nemesis didn't even bother to show up.
---
Rainbow Rowell strikes again. With yet another book, that I absolutely loved. I wasn't entirely sure what to expect from Rainbow and a fantasy book, since until Carry On, she had written only contemporary novels. I was not disappointed in the least by this book. I feel like I should mention that this is not meant to be the fanfiction that Cath was writing in Fangirl by Rainbow Rowell. From what I've read, there were a few people expecting this to be that, and it is not.
I will agree with other reviews in that the first 150 pages or so were slower than the rest of the book. Though I don't think it was at an antagonizing pace or boring. The magic system was a bit different, and not necessarily my favorite part of the book. I thought it was an interesting change from what you normally see. However, I'm not sure someone else could have pulled it off the way that Rainbow did.
One thing I was very grateful for was that you can definitely tell that this is a Rainbow book. She does characters so well. I talked a little about this in my review of Attachments. They always serve their purpose perfectly, and they seem so real. They're flawed and real and relatable.
I would definitely recommend this book. Especially if you are a fan of Rainbow Rowell or you enjoyed the fanfiction sections in Fangirl. On a side note, I've read a lot of people saying that they didn't love this cover. Even a few that really, really didn't like it. However, I will have to kindly disagree. I love this cover. While it's not what I expected, I still really like it.
*The image and synopsis were both taken from Goodreads. Clicking on the "add to goodreads" image above will take you to the Goodreads page for this book.*