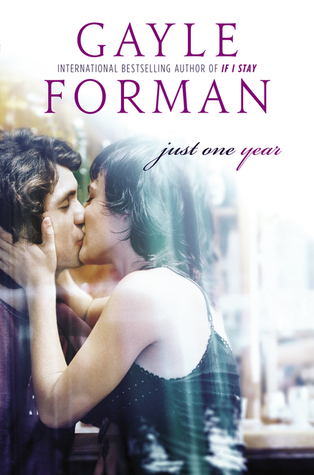 *WARNING: Possible spoilers for the previous book.*
Publication Date: October 10, 2013
Publisher: Dutton Children's
Genre: Young Adult Contemporary
Series: The Just One Day Duology, Book Two
Format: Paperback/Audio Book
Pages: 336 pages
Source: Purchased/Scribd
Buy It: Amazon | Book Depository
Rating: 
Just One Day. Just One Year. Just One Read.
Before you find out how their story ends, remember how it began….
When he opens his eyes, Willem doesn't know where in the world he is—Prague or Dubrovnik or back in Amsterdam. All he knows is that he is once again alone, and that he needs to find a girl named Lulu. They shared one magical day in Paris, and something about that day—that girl—makes Willem wonder if they aren't fated to be together. He travels all over the world, from Mexico to India, hoping to reconnect with her. But as months go by and Lulu remains elusive, Willem starts to question if the hand of fate is as strong as he'd thought. . . .
---
I really, really enjoyed this book. I wasn't the biggest fan of the narrator in the audio book, but it certainly could have been worse. This second novel takes place in Willem's perspective and picks up where he went missing in Just One Day. We follow Willem throughout the year that he and Allyson were apart. I was glad that this novel allowed us to figure out why he disappeared, and what he did over that year.
Just One Year was another emotional read about finding yourself. This one also centered more around family and friends than the first book did, which I enjoyed. I really like that Gayle Forman stuck to a "finding yourself" theme in this book, because it was probably my favorite aspect of the first book. I think this second novel was a little slower than the first, but that could have been the audio book.
Overall, I would recommend this novel if you enjoyed the first book. Keep in mind that it's not a continuation of the first novel, however. It's simply the same time period told from Willem's perspective. If you're interesting in seeing what his year away from Allyson was like, then this is definitely the book for you. Either way, if you enjoyed Just One Day, I suggest you pick it up. (: If you're interested in finding out what happens after both of these books, pick up the novella Just One Night by Gayle Forman; it was a nice wrap up to the story.
*The image and synopsis were both taken from Goodreads. Clicking on the "add to goodreads" image above will take you to the Goodreads page for this book.*