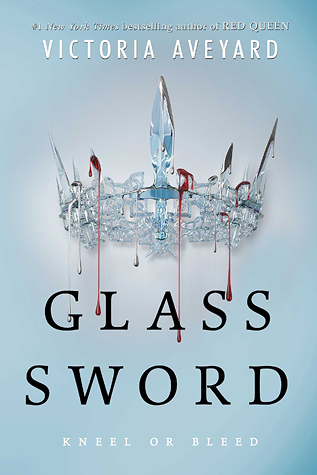 Glass Sword by Victoria Aveyard

*WARNING: Possible spoilers for Red Queen.*
Release Date: February 9, 2016
Publisher: HarperTeen
Pre-Order It: Amazon | Book Depository
Mare Barrow's blood is red—the color of common folk—but her Silver ability, the power to control lightning, has turned her into a weapon that the royal court tries to control.
The crown calls her an impossibility, a fake, but as she makes her escape from Maven, the prince—the friend—who betrayed her, Mare uncovers something startling: she is not the only one of her kind.
Pursued by Maven, now a vindictive king, Mare sets out to find and recruit other Red-and-Silver fighters to join in the struggle against her oppressors.
But Mare finds herself on a deadly path, at risk of becoming exactly the kind of monster she is trying to defeat.
Will she shatter under the weight of the lives that are the cost of rebellion? Or have treachery and betrayal hardened her forever?
My Thoughts: I cannot wait to get my hands on this book. I really enjoyed this book last year, and I need to find out what happens next. *grabby hands* I hope I enjoy this second installment as much as I enjoyed the first. There were quite a few twists at the end of Red Queen, and I'm ready to see where they take us. Luckily, my Walmart had the first book last year, so the chances of them having this in stock is high.
Honorable Mentions: Stars Above by Marissa Meyer (2/2/16), Assassin's Heart by Sarah Ahiers (2/2/16), Calamity by Brandon Sanderson (2/16/16), and The Shadow Queen by C.J. Redwine (2/16/16)
What book are you most looking forward to this month?