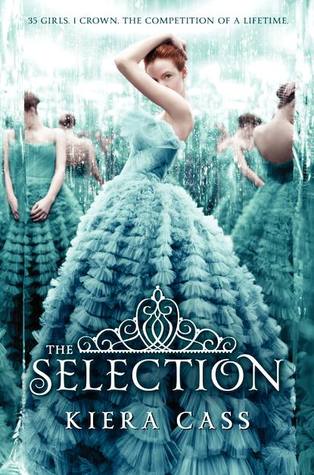 Publication Date: April 24, 2012
Publisher: HarperTeen
Genre: Young Adult Dystopian
Series: The Selection Series, Book One
Format: Paperback
Pages: 336 pages
Source: Purchased
Buy It: Amazon | Book Depository
Rating: 
For thirty-five girls, the Selection is the chance of a lifetime. The opportunity to escape the life laid out for them since birth. To be swept up in a world of glittering gowns and priceless jewels. To live in a palace and compete for the heart of gorgeous Prince Maxon.
But for America Singer, being Selected is a nightmare. It means turning her back on her secret love with Aspen, who is a caste below her. Leaving her home to enter a fierce competition for a crown she doesn't want. Living in a palace that is constantly threatened by violent rebel attacks.
Then America meets Prince Maxon. Gradually, she starts to question all the plans she's made for herself—and realizes that the life she's always dreamed of may not compare to a future she never imagined.
---
First of all, I'd like to say that I went into The Selection with extremely low expectations. I had heard so many negative things about this series, mostly to do with the main character being frustrating and/or annoying. I admit that the plot was fairly predictable; and that even though it's classified as a dystopian novel, we don't see much of that aspect. That being said, I really, really enjoyed this book. I think going in with my expectations set so low definitely helped!
I really enjoyed the setting of this novel. It's set in the future, but also brought back kingdoms and royalty. I wasn't confused about when this book was supposed to be set like I was in another book that had this same kind of setting. Another aspect of this book that I really enjoyed was the writing. No, it's not the most well-written book on the planet; but it was such a fun story. It was fast paced, and a quick and easy read. Sometimes you just need that in your reading life.
Now, to the biggest thing I hear about this novel; which is that the main character, America, is annoying. I didn't really see it. There were a few spots where I thought she was being a little frustrating, but I actually liked her quite a bit. I loved that she stayed true to herself throughout the novel. For the most part, I enjoyed the other characters in the novel also, like Maxon. I wasn't the biggest fan of Aspen, I just don't really like his character very much.
Overall, I would definitely recommend this book. I suggest going in with low expectations like I did. However, expect a fun and quick read. I read all three of the original trilogy in this series this month.
*The image and synopsis were both taken from Goodreads. Clicking on the "add to Goodreads" image above will take you to the Goodreads page for this book.*