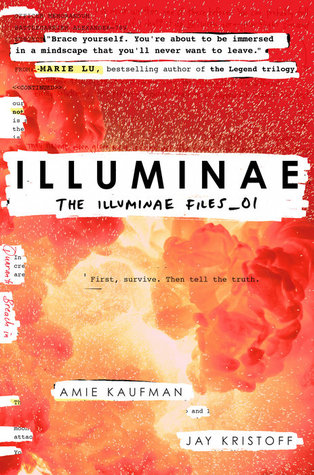 Publication Date: October 20, 2015
Publisher: Knopf Books
Genre: Young Adult Science Fiction
Series: The Illuminae Files, Book One
Format: Hardcover
Pages: 599 pages
Source: Purchased
Buy It: Amazon | Book Depository
Rating: 
This morning, Kady thought breaking up with Ezra was the hardest thing she'd have to do.
This afternoon, her planet was invaded.
The year is 2575, and two rival megacorporations are at war over a planet that's little more than an ice-covered speck at the edge of the universe. Too bad nobody thought to warn the people living on it. With enemy fire raining down on them, Kady and Ezra—who are barely even talking to each other—are forced to fight their way onto an evacuating fleet, with an enemy warship in hot pursuit.
But their problems are just getting started. A deadly plague has broken out and is mutating, with terrifying results; the fleet's AI, which should be protecting them, may actually be their enemy; and nobody in charge will say what's really going on. As Kady hacks into a tangled web of data to find the truth, it's clear only one person can help her bring it all to light: the ex-boyfriend she swore she'd never speak to again.
---
Illuminae was hands down, one of the best books that I've read in a really long time; and it is definitely one of my favorite books of all time now. This book reminded me how much I love science fiction, and that I don't read nearly enough of it. Not only was the story itself amazing, but also the format of the book. The story is told through a series of files, emails, instant messages, surveillance camera footage, and more. The format was really intriguing to me before I read the book, and I'm really glad it was done so well.
The authors did an amazing job of making sure that each character had their own voice; even through the case files, interviews, etc. And I do mean everyone; including the artificial intelligence computer, the guy that looked over security footage, everyone. This book was such a fun and immersive reading experience. Not to mention the emotions I felt while reading this book. It's full of witty dialogue, heartwarming moments, heart pounding moments, and so much tragedy.
Overall, I would definitely recommend this book; especially if you enjoy science fiction! This has moon civilizations, spaceships, interstellar war, a deadly chemical virus, and so many more amazing things. If that hasn't convinced you to go read this book, I'm not really sure what will.
*The image and synopsis were both taken from Goodreads. Clicking on the "add to goodreads" image above will take you to the Goodreads page for this book.*