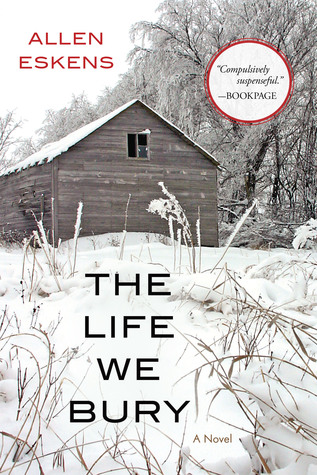 Publication Date: October 14, 2014
Publisher: Seventh Street Books
Genre: Adult Mystery
Format: Paperback
Pages: 303 pages
Source: Borrowed
Buy It: Amazon | Book Depository
Rating: 
College student Joe Talbert has the modest goal of completing a writing assignment for an English class. His task is to interview a stranger and write a brief biography of the person. With deadlines looming, Joe heads to a nearby nursing home to find a willing subject. There he meets Carl Iverson, and soon nothing in Joe's life is ever the same.
Carl is a dying Vietnam veteran–and a convicted murderer. With only a few months to live, he has been medically paroled to a nursing home, after spending thirty years in prison for the crimes of rape and murder.
As Joe writes about Carl's life, especially Carl's valor in Vietnam, he cannot reconcile the heroism of the soldier with the despicable acts of the convict. Joe, along with his skeptical female neighbor, throws himself into uncovering the truth, but he is hamstrung in his efforts by having to deal with his dangerously dysfunctional mother, the guilt of leaving his autistic brother vulnerable, and a haunting childhood memory.
Thread by thread, Joe unravels the tapestry of Carl's conviction. But as he and Lila dig deeper into the circumstances of the crime, the stakes grow higher. Will Joe discover the truth before it's too late to escape the fallout?
---
Trigger warnings for description of rape, war, murder, and violence. If this triggers you in any way, I do not recommend picking this book up. Please beware and take care of yourselves. 

I went into The Life We Bury with fairly low expectations. It had been awhile since I had last read an adult mystery, and for anyone who reads them knows, they can get pretty crazy at times. I seemed to have forgotten this because I spent a good portion of the surprising bits with this face: O_O. Now, I should mention that the reason I even picked this book up was because my coworker (who also happened to be my fourth-grade teacher once upon a time) told me it was really good. And she lent me her copy of the book.
This book had a lot going for it, and a lot happened within the 300 pages. This was a solid debut novel that was part mystery and part crime. I really enjoyed that it had a rapid moving plot and that the character relationships seemed fairly realistic. The addition of an autistic character was interesting and enjoyable. It also added an element of family and Joe's overwhelming need to protect his little brother.
I really enjoyed this novel, but I did have a few small issues with this novel. The first of which was the character Lila; at the beginning of the novel I found her a little frustrating and annoying. Some of the wrap up at the end seemed a little too easy, while other parts of it seemed a little out there. Again, I hadn't read an adult mystery in awhile and forgot how crazy they can be.
Overall, I would recommend this to anyone who enjoys adult mysteries. It was a solid novel, and I'm glad I took the chance and picked it up when my coworker told me to.
*The image and synopsis were both taken from Goodreads. Clicking on the "add to Goodreads" image above will take you to the Goodreads page for this book.*