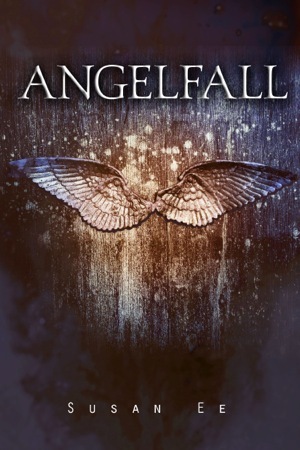 Publication Date: May 21, 2011
Publisher: Skyscape
Genre: Young Adult Post Apocalyptic
Series: Penryn and the End of Days, Book One
Format: Paperback
Pages: 284 pages
Source: Purchased
Buy It: Amazon | Book Depository
Rating: 
It's been six weeks since angels of the apocalypse descended to demolish the modern world. Street gangs rule the day while fear and superstition rule the night. When warrior angels fly away with a helpless little girl, her seventeen-year-old sister Penryn will do anything to get her back.
Anything, including making a deal with an enemy angel.
Raffe is a warrior who lies broken and wingless on the street. After eons of fighting his own battles, he finds himself being rescued from a desperate situation by a half-starved teenage girl.
Traveling through a dark and twisted Northern California, they have only each other to rely on for survival. Together, they journey toward the angels' stronghold in San Francisco where she'll risk everything to rescue her sister and he'll put himself at the mercy of his greatest enemies for the chance to be made whole again.
---
I had heard so many good things about Angelfall, so going into this novel, I had pretty high expectations. I definitely was not let down by this book. This is one of the few angel books that I've read; in fact I think I've only ever read one other. That I can think of right now, anyway. Angelfall is a really dark, and graphic story. There were a few points within this novel that I was kind of cringing, particularly toward the end; but I'm pretty much a baby when it comes to graphic violence.
I really enjoyed this take on angels. We as humans imagine angels as these beings that are meant to protect us, but they definitely do the exact opposite of that in this book. I love post apocalyptic novels; but I found the world for this one really interesting. Just in terms of the fact that it was brought on by angels.
The characters throughout this novel were just so fantastic. Penryn was a strong, female lead. She's only seventeen years old and has to step up to the plate and take care of her family. Her mother is mentally ill and her sister is in a wheelchair; and when she fails to protect sister, she does everything in her power to get her sister back. Raffe on the other hand, is pretty mysterious. He doesn't let a whole lot show throughout this novel, and I would like to know more about him.
There were just so many amazing aspects of this book. The plot was on point, the dialogue was the perfect amount of wit and sass. My only real complaint about this book was how long it took me to read it (about a month). I don't think this really has much to do with the book, and had more to do with the weird reading slumps that I have been experiencing; but it's hard to be sure. It just read really slow for me, and I'm not sure why.
Overall, I would definitely recommend this book. I cannot wait to continue on to book two, and hope to do that soon. I need to know what happens next. Please, please keep in mind that this book is pretty graphic and consider whether that's your jam or not.
*The image and synopsis were both taken from Goodreads. Clicking on the "add to goodreads" image above will take you to the Goodreads page for this book.*