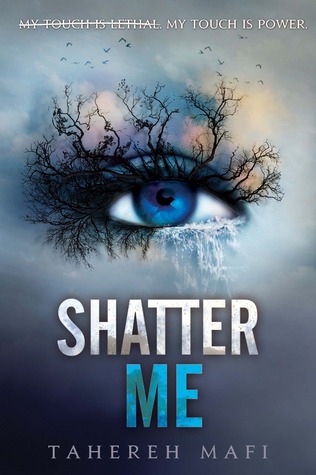 Publication Date: October 2, 2012 (first published 2011)
Publisher: HarperCollins
Genre: Young Adult Paranormal
Series: The Shatter Me Trilogy, Book One
Format: Paperback
Pages: 338 pages
Source: Purchased
Buy It: Amazon | Book Depository
Rating:
Juliette hasn't touched anyone in exactly 264 days.
The last time she did, it was an accident, but The Reestablishment locked her up for murder. No one knows why Juliette's touch is fatal. As long as she doesn't hurt anyone else, no one really cares. The world is too busy crumbling to pieces to pay attention to a 17-year-old girl. Diseases are destroying the population, food is hard to find, birds don't fly anymore, and the clouds are the wrong color.
The Reestablishment said their way was the only way to fix things, so they threw Juliette in a cell. Now so many people are dead that the survivors are whispering war – and The Reestablishment has changed its mind. Maybe Juliette is more than a tortured soul stuffed into a poisonous body. Maybe she's exactly what they need right now.
Juliette has to make a choice: Be a weapon. Or be a warrior.
---
This novel was such a wonderful surprise. I had fairly high expectations going into this because I know quite a few people loved it. That, and I had heard many things about how beautiful the writing was, and this book definitely didn't disappoint. I really loved this first book, and I'm very excited to see what direction it goes in next. There's lots of romance, which is something I'm definitely a fan of. There was also quite a bit of action. These two things combined made Shatter Me a quick read.
I thought Tahereh Mafi's writing was beautiful. Some others have said that it was hard to get into and that it was a little annoying at times, which I didn't feel at all. However, I can understand why it wouldn't be for some people. This book is definitely written in a very poetic way. Some of the sentences were struck out, there were long run on sentences, but it felt like you were following Juliette's stream of thoughts and I thought it worked very well.
One of my favorite things about this novel was the strong female lead. Now, she wasn't extremely independent, which would have made me love her more. Juliette has a very tragic and troubled past, and I thought it was fantastic that she was able to kind of pull herself out of that. She did have some help in that department. I really enjoyed Adam's character for the most part. At times he seemed a little too perfect, which was annoying; but I enjoyed that he was very tender with Juliette.
Warner was the complete opposite of Adam. Warner is the antagonist, and for good reason. He's a complete asshole. And I have absolutely no idea why people like him; I'm really hoping the next books will shed some light for me. I did read his novella, which made me dislike him a little less, and understand why he does some of the things he does a little more. I enjoyed him as an antagonist, don't get me wrong; I just don't understand why some people ship Warner and Juliette together.
Overall, I would definitely recommend this book. It reminds me and everyone else a lot of X-Men. I've always been a fan of people with superpowers, and this book definitely didn't disappoint me in that area.
*The image and synopsis were both taken from Goodreads. Clicking on the "add to Goodreads" image above will take you to the Goodreads page for this book.*