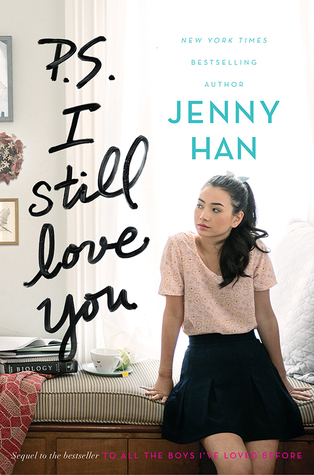 *WARNING: Possible spoilers for the previous book.*
Publication Date: May 26, 2015
Publisher: Simon & Schuster
Genre: Young Adult Contemporary
Series: The To All the Boys I've Loved Before Series, Book Two
Format: Hardcover
Pages: 337 pages
Source: Purchased
Buy It: Amazon | Book Depository
Rating:
Lara Jean didn't expect to really fall for Peter.
She and Peter were just pretending. Except suddenly they weren't. Now Lara Jean is more confused than ever.
When another boy from her past returns to her life, Lara Jean's feelings for him return too. Can a girl be in love with two boys at once?
In this charming and heartfelt sequel to the New York Times bestseller To All the Boys I've Loved Before, we see first love through the eyes of the unforgettable Lara Jean. Love is never easy, but maybe that's part of what makes it so amazing.
---
I was a little hesitant going into this book at first, because sequels can be pretty touch and go. Either they're really good, or they can be lacking. Jenny Han did not disappoint me with this finale. This second novel had just as many fantastic layers to it as the first book did. I got to spend some more time with my favorite characters, along with being introduced to some new characters that I really liked.
One of my favorite things about this series was the huge role that Lara Jean's family played into both novels. I've said it before, and I'll say it again, we don't see that enough in young adult fiction. Her father is such a wonderful parent, and the relationship between Lara Jean and her sisters is absolutely fantastic. I also really enjoy that we see a little of their Korean heritage in both books.
The romance was cute, and definitely not lacking in drama. My only real complaint about this book, was the really unnecessary love triangle/square that was going on. It wasn't a big enough problem that it knocked my love of the book down, but it didn't really feel genuine at all. While I didn't mind the new character, it felt like he was there merely for the benefit of this plot; meaning that I didn't really have a connection to him at all.
Overall, I would definitely recommend this book. This series is one of the those, light, fluffy reads that leaves me with a smile at the end. And who doesn't love those?
*The image and synopsis were both taken from Goodreads. Clicking on the "add to Goodreads" image above will take you to the Goodreads page for this book.*