Here are the rules:
Grab your current read.
Open to a random page.
Share two (2) "teaser" sentences from somewhere on that page.
Be careful NOT TO INCLUDE SPOILERS. (Make sure what you share doesn't give too much away, you don't want to ruin the book for others.)
Share the title and author too, so that readers and other TT participants can add the book to their to be read lists if they want. (You can directly access the Goodreads page from this post by clicking on the title and author of the book, posted just below this.)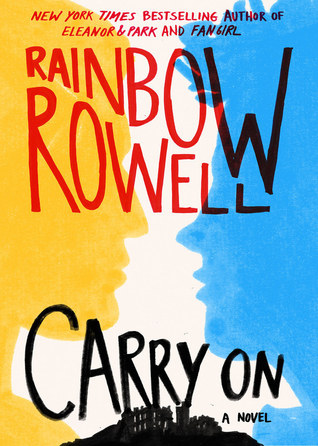 Carry On by Rainbow Rowell
Simon Snow is the worst chosen one who's ever been chosen.
That's what his roommate, Baz, says. And Baz might be evil and a vampire and a complete git, but he's probably right.
Half the time, Simon can't even make his wand work, and the other half, he sets something on fire. His mentor's avoiding him, his girlfriend broke up with him, and there's a magic-eating monster running around wearing Simon's face. Baz would be having a field day with all this, if he were here—it's their last year at the Watford School of Magicks, and Simon's infuriating nemesis didn't even bother to show up.
Carry On is a ghost story, a love story, a mystery and a melodrama. It has just as much kissing and talking as you'd expect from a Rainbow Rowell story—but far, far more monsters.
"Well, how am I supposed to know? There isn't a book, is there? All the Magickal Things that Are Actually True and All the Ones that Are Bollocks, Just Like You Thought." – pg. 64