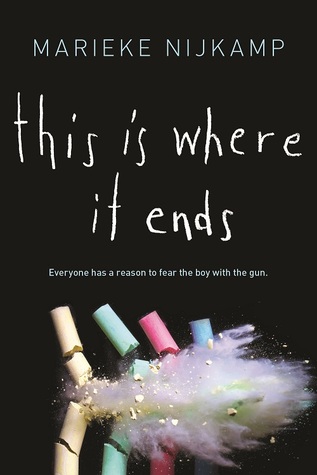 Publication Date: January 5th, 2016
Publisher: Sourcebooks Fire
Genre: Young Adult Contemporary
Format: ARC
Pages: 292 pages
Source: NetGalley
Buy It: Amazon | Book Depository
Rating: 
10:00 a.m.
The principal of Opportunity, Alabama's high school finishes her speech, welcoming the entire student body to a new semester and encouraging them to excel and achieve.
10:02 a.m.
The students get up to leave the auditorium for their next class.
10:03
The auditorium doors won't open.
10:05
Someone starts shooting.
Told over the span of 54 harrowing minutes from four different perspectives, terror reigns as one student's calculated revenge turns into the ultimate game of survival.
---
I would be lying if I said that I wasn't a little skeptical of this book at first. School shootings are nothing to mess with, and I was worried that the story wouldn't be conveyed well. Not only that, but the book takes place over a whopping 54 minutes. That's not a lot of time to tell a story in, but I was surprised to find that Marieke Nijkamp pulled it off fairly well. I think she made a wise choice in deciding to tell the story from multiple points of view, especially with the characters that she chose for those POVs.
This novel takes place over such a short amount of time; it's delicate and everyone is so finely interwoven. This book is dark, very much so. It deals with a tough subject, a diverse set of characters, and it's a shocking read. It's shocking to think of how many people have gone through a situation similar to the one inside of this novel in real life.
I'm being purposefully vague because I don't want to accidentally spoil anything. It was a short, and quick read. At the end of each chapter I was left with a sense of wanting to know more, of wanting to know what was going to happen next. We as readers know that this is a good thing.
Overall, I would recommend this book. I think that it tells an important story. The subject matter is controversial and I think that's important; especially in the society that we live in today.
*I received a copy of this book from NetGalley in exchange for an honest review. Thank you to both NetGalley and Sourcebooks Fire for the opportunity to read and review this novel. The image and synopsis were both taken from Goodreads. Clicking on the "add to Goodreads" image above will take you to the Goodreads page for this book.*