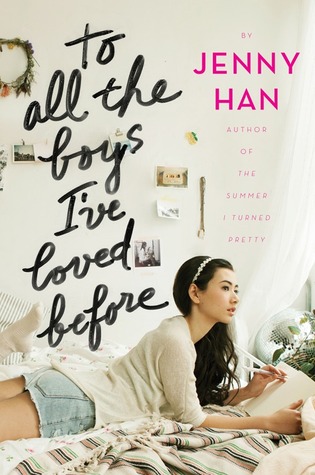 Publication Date: April 15, 2014
Publisher: Simon & Schuster
Genre: Young Adult Contemporary
Series: The To All the Boys I've Loved Before Series, Book One
Format: Hardcover
Pages: 288 pages
Source: Purchased
Buy It: Amazon | Book Depository
Rating: 
To All the Boys I've Loved Before is the story of Lara Jean, who has never openly admitted her crushes, but instead wrote each boy a letter about how she felt, sealed it, and hid it in a box under her bed. But one day Lara Jean discovers that somehow her secret box of letters has been mailed, causing all her crushes from her past to confront her about the letters: her first kiss, the boy from summer camp, even her sister's ex-boyfriend, Josh. As she learns to deal with her past loves face to face, Lara Jean discovers that something good may come out of these letters after all.
---
This novel follows a teenage girl named Lara Jean. Throughout her short life, she has written love letters to every boy that she has loved/liked; addressed them, sealed them, and stored them in a hat box under her bed. One day, the letters are somehow mailed out and Lara Jean must deal with the consequences of the boys reading her letters. This novel had so many fantastic layers.
First, I really loved the family dynamic in this book. Family is the most important thing to Lara Jean, and it definitely shows throughout this novel. It was a nice refreshing change, considering quite a few families are messed up or missing in young adult literature. Now, her mother is dead; but I didn't really see this as the usual "can't find a place for her" kind of thing. I really thought it was important to bring forth the family dynamic between Lara Jean, her sisters, and her father. I also really enjoyed the Korean tradition type references in this.
This story is a love story, yes; but it is so much more than that. It deals a lot with family relationships, particularly the ones with Lara Jean and her sisters. It also deals with issues like her relationships with people at school, her neighbor Josh (also her sister Margot's ex-boyfriend), her first kiss, her ex-best friend, and so much more. There was also this level with Lara Jean, where she kind of discovers herself. It was a truly fantastic book.
Overall, I would definitely recommend this. I think it's probably the perfect type of young adult contemporary novel (in my opinion, anyway). It's the right amount of fluff, with a great deal of humor, a heavy importance on family, and so many other fantastic things. It's definitely one of my favorite books of this year, and probably one of my favorites of all time.
*The image and synopsis were both taken from Goodreads. Clicking on the "add to Goodreads" image above will take you to the Goodreads page for this book.*