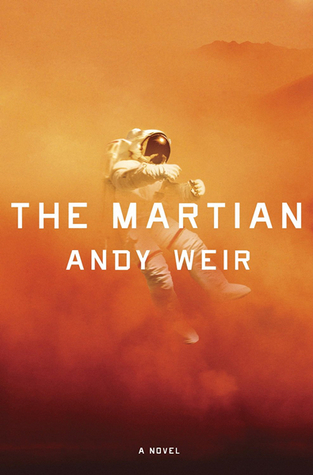 Publication Date: 2011
Publisher: Crown
Genre: Adult Science Fiction
Format: Paperback
Pages: 369 pages
Source: Purchased
Buy It: Amazon | Book Depository
Rating: 
Six days ago, astronaut Mark Watney became one of the first people to walk on Mars. Now, he's sure he'll be the first person to die there. After a dust storm nearly kills him & forces his crew to evacuate while thinking him dead, Mark finds himself stranded & completely alone with no way to even signal Earth that he's alive—& even if he could get word out, his supplies would be gone long before a rescue could arrive. Chances are, though, he won't have time to starve to death. The damaged machinery, unforgiving environment or plain-old "human error" are much more likely to kill him first. But Mark isn't ready to give up yet. Drawing on his ingenuity, his engineering skills—& a relentless, dogged refusal to quit—he steadfastly confronts one seemingly insurmountable obstacle after the next. Will his resourcefulness be enough to overcome the impossible odds against him?
---
I cannot tell you the number of times I have accidentally added a d to the end of Andy Weir's name. It's embarrassing, really. This was such an amazing survival story, chalk full of science and lessons on human nature. This is easily one of my new favorites. I absolutely loved Weir's writing style. It was fast paced; and although it was full of science and math, he did a fairly good job of helping you to understand the general idea of what it meant. Though I do admit, it occasionally went over my head. This didn't affect my enjoyment of the book, however.
I absolutely love our main character, Mark Watney. He was able to face a tragic situation without losing his head or sight of what he needed to do to survive. Watney is such a hilarious character, and it definitely helps to keep his head on his shoulders. If he didn't have humor, what would he have? A bunch of disco music. (Those of you who have read the book, or seen the movie will understand the reference.)
Andy Weir also did a really good job with descriptions. I don't remember a time while reading The Martian in which I was confused as to how something was supposed to look. I was able to visualize the things happening, and the things that Watney was seeing. I imagine the audiobook for this novel would have been extremely entertaining since the majority of the novel is told through logs that Watney has to do.
Overall, I would definitely recommend this if you enjoy adult science fiction stories. Heavy on the science.
*The image and synopsis were both taken from Goodreads. Clicking on the "add to goodreads" image above will take you to the Goodreads page for this book.*