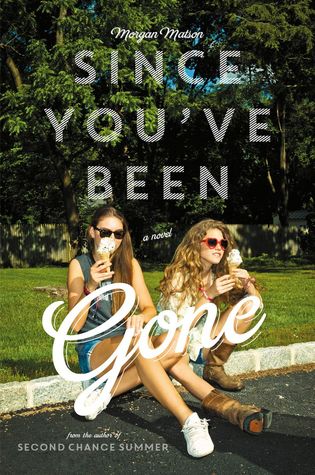 Publication Date: May 6, 2014
Publisher: Simon & Schuster
Genre: Young Adult Contemporary
Format: Hardcover
Pages: 446
Source: Purchased
Buy It: Amazon | Book Depository
Rating: 
It was Sloane who yanked Emily out of her shell and made life 100% interesting. But right before what should have been the most epic summer, Sloane just…disappears. All she leaves behind is a to-do list.
On it, thirteen Sloane-inspired tasks that Emily would normally never try. But what if they could bring her best friend back?
Apple picking at night? Okay, easy enough.
Dance until dawn? Sure. Why not?
Kiss a stranger? Um…
Emily now has this unexpected summer, and the help of Frank Porter (totally unexpected), to check things off Sloane's list. Who knows what she'll find?
Go skinny-dipping? Wait…what?
---
I had pretty high expectations going into this book, and I was definitely not disappointed. I had heard so many amazing things about this book, and I'm happy to say I completely agree. Since You've Been Gone was fantastic. It was different, interesting, and all I wanted to do was keep reading it. This was another buddy read in which I had to stick to a schedule. (Then I ended up reading the rest of it early anyway. Whoops!)
It was such a thrill to follow our main character, Emily, as she attempts to complete the list Sloane left for her. Emily was such a dynamic character, along with the rest of the characters in the novel. I love the friends she makes over the summer, especially Frank Porter. It was written so well, and her character development was absolutely beautiful. Now the friendship between Emily and Sloane was not my favorite. That being said, it warmed my heart to know that Emily did not want to give up on her best friend.
I found the relationship Emily had with her parents interesting. It's very common to have absentee parents in young adult novels. Emily's parents weren't exactly absent, and you always had this feeling that they would drop everything for her if she asked them to. Which I enjoyed a lot. I thought Matson did a very good job of finding a way to have them be there, but not be there all the time; which I think a lot of authors struggle with in young adult literature.
Overall, I would definitely recommend you pick this up. Especially if you like young adult contemporary novels. This is more of the fluffy side but is a little more serious at times. Emily is kind of trying to find herself throughout this book, and it was just so fantastic.
*The image and synopsis were both taken from Goodreads. Clicking on the "add to Goodreads" image above will take you to the Goodreads page for this book.*