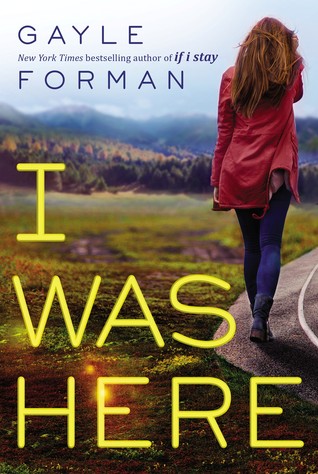 Publication Date: January 1, 2015
Publisher: Viking Juvenile
Genre: Young Adult Contemporary
Format: Hardcover
Pages: 270 pages
Source: Purchased
Buy It: Amazon | Book Depository
Rating: 
Cody and Meg were inseparable.
Two peas in a pod.
Until . . . they weren't anymore.
When her best friend Meg drinks a bottle of industrial-strength cleaner alone in a motel room, Cody is understandably shocked and devastated. She and Meg shared everything—so how was there no warning? But when Cody travels to Meg's college town to pack up the belongings left behind, she discovers that there's a lot that Meg never told her. About her old roommates, the sort of people Cody never would have met in her dead-end small town in Washington. About Ben McAllister, the boy with a guitar and a sneer, who broke Meg's heart. And about an encrypted computer file that Cody can't open—until she does, and suddenly everything Cody thought she knew about her best friend's death gets thrown into question.
---
This book contains trigger warnings for: suicide and depression. If this triggers you in any way, I do not recommend picking this book up. I also talk about death and depression a lot in this review. Please beware and take care of yourselves.❤
I absolutely love Gayle Forman's writing. Everything I've read from her has been at least a four star book, and this was no exception. I Was Here is the beautiful story of a girl coming to terms with an unbelievable loss. It's about Cody trying to find answers, and come to terms with the things that have happened. Of course, Forman's novels would not be complete without a romance. However, I never really felt like it was the center of the story; which I thought was a good thing.
I really enjoy Forman's writing style. She has this talent where she makes you feel like you're reading your story. Which I can definitely appreciate. This novel hit a little closer to home than I would have liked, but I knew that it would going into it. The suicide doesn't sneak up on you, it's clearly stated in the synopsis and happens in the very first chapter. I appreciate authors who can write about a tough subject such as this, and pull it off. Gayle Forman did a very good job with this topic.
There were a lot of things that I related to in this book. Now, I've never had a friend commit suicide before; and for that, I am grateful. I cannot imagine the amount of pain that would have caused. However, I did lose my dad to an illness in high school. And while I never had to go through the why phase that comes from someone taking their own life, I understand how difficult it can be when you lose someone so dear to you.
I thought Cody's reactions were well suited to the situation she was in. The anger, the questions, they all happen when you lose someone suddenly. Her character and her development both felt very real to me. I also thought Meg's situation was a very realistic one. Often people suffering from depression don't tell anyone. That has to do a lot with the society we live in and the stigma that is placed on mental health. It shouldn't be that way, but it is. You can seem like the happiest person alive on the outside, but only you know what's going on inside of you.
Overall, I would definitely recommend you pick this up if you enjoy heavier young adult contemporaries.
*The image and synopsis were both taken from Goodreads. Clicking on the "add to goodreads" image above will take you to the Goodreads page for this book.*