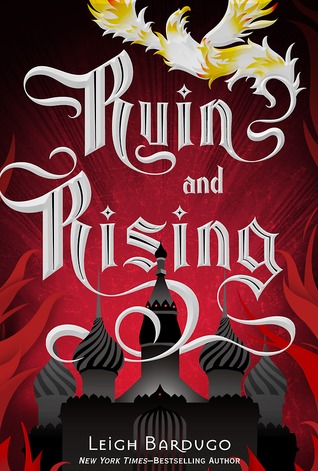 *WARNING: Possible spoilers for the previous books.*
Publication Date: June 17, 2014
Publisher: Henry Holt and Co.
Genre: Young Adult Fantasy
Series: The Grisha Trilogy, Book Three
Format: Hardcover
Pages: 422
Source: Purchased
Buy It: Amazon | Book Depository
Rating: 
The capital has fallen.
The Darkling rules Ravka from his shadow throne.
Now the nation's fate rests with a broken Sun Summoner, a disgraced tracker, and the shattered remnants of a once-great magical army.
Deep in an ancient network of tunnels and caverns, a weakened Alina must submit to the dubious protection of the Apparat and the zealots who worship her as a Saint. Yet her plans lie elsewhere, with the hunt for the elusive firebird and the hope that an outlaw prince still survives.
Alina will have to forge new alliances and put aside old rivalries as she and Mal race to find the last of Morozova's amplifiers. But as she begins to unravel the Darkling's secrets, she reveals a past that will forever alter her understanding of the bond they share and the power she wields. The firebird is the one thing that stands between Ravka and destruction—and claiming it could cost Alina the very future she's fighting for.
---
The first thing you need to know about this book is, it will rip your heart out and spit the pieces at you. I'm a firm believer that books that are able to do this, are the best kind of books. In this case, these feelings are completely due to Leigh Bardugo and her beautiful writing. I'm definitely not a big fan of who Alina ends up with. However, the love and longing that she portrays between the two made me feel things that I was unaware I could feel for that pairing.
The plot was pretty perfect. The entire story had a nice flow to it and a fairly good pace. There were a few moments where it dipped and was a little slower, but I didn't mind it. Leigh Bardugo is a really amazing storyteller, and her writing is just so wonderful.
When it comes to the ending, I'm mostly satisfied. The ending was completely heartbreaking. Alina loses something so dear to her, and there's a scene at the end that crushed my heart to dust. I can't tell you exactly what happens in the scene because it would spoil something pretty big. Alina did not end up with who I wanted her to end up with, but I am glad that she is happy overall.
Overall, I would definitely recommend this book. It was such a good conclusion. Were there a few things I wish were a little different? Yes. However, the emotions that Bardugo's writing and storytelling gave me pushed it over the top.
*The image and synopsis were both taken from Goodreads. Clicking on the "add to Goodreads" image above will take you to the Goodreads page for this book.*