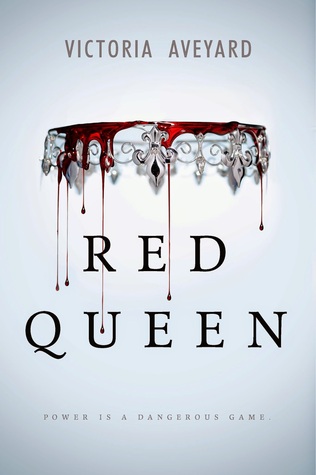 Publication Date: February 10, 2015
Publisher: HarperTeen
Genre: Young Adult Fantasy
Series: The Red Queen Trilogy, Book One
Format: Hardcover
Pages: 383 pages
Source: Purchased
Buy It: Amazon | Book Depository
Rating: 
MARE BARROW'S WORLD IS DIVIDED BY BLOOD—those with red and those with silver. Mare and her family are lowly Reds, destined to serve the Silver elite whose supernatural abilities make them nearly gods. Mare steals what she can to help her family survive, but when her best friend is conscripted into the army she gambles everything to win his freedom. A twist of fate leads her to the royal palace itself, where, in front of the king and all his nobles, she discovers a power of her own—an ability she didn't know she had. Except… her blood is Red.
To hide this impossibility, the king forces her into the role of a lost Silver princess and betroths her to one of his own sons. As mare is drawn further into the Silver world, she risks her new position to aid the Scarlet Guard—the leaders of a Red rebellion. Her actions put into motion a deadly and violent dance, pitting prince against prince—and Mare against her own heart.
---
I was pleasantly surprised by this novel. I had heard a lot of mixed reviews about this book. Most of the complaints I had been hearing were based on the fact that people believe she just took the best parts of other popular, young adult novels. I haven't read most of the books that this has been compared too, but only really compared it to another novel at one point while reading it. I hate when people do this, and I try my very best not to do it when reading.
That being said, I did really enjoy this novel. Our main character starts off as your typical young adult heroine. The girl that's different and special. But she really stood out to me. She doesn't let other people or events set her off of her course. She was able to keep a clear picture of her goals throughout the novel. She didn't let a love interest deter her, and I always enjoy seeing that in YA novels because, sadly, it's kind of rare. Cal and Maven were also perfect additions to the story. I think they played their parts well, and we really got to know them. They kind of start off as your typical secondary characters; but you learn more about them and their history and it's just fantastic.
I can't say a whole lot about the plot because I don't want to spoil anything. But the plot was so on point. Victoria Aveyard did a fantastic job at setting up the plot. AND THAT PLOT TWIST AT THE END, OH MY GOD. I'm just sayin'. I didn't really see it coming because there was so much other stuff going on that I was focusing on, she just totally blindsided me there. And I loved every minute of it. I really need the second book.
Overall, I would definitely recommend this book. If you haven't picked it up yet, and you enjoy young adult fantasy I would definitely tell you to give it a try. Especially if you like books with people with powers. The powers in this novel were just so interesting to me. I loved it.
*The image and synopsis were both taken from Goodreads. Clicking on the "add to Goodreads" image above will take you to the Goodreads page for this book.*