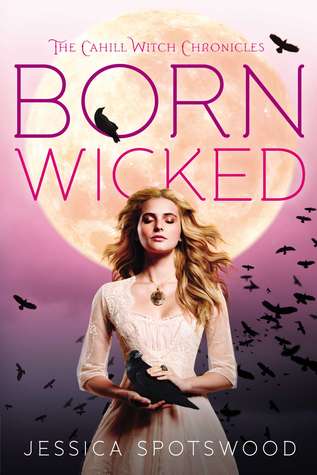 Publication Date: January 25, 2012
Publisher: Speak
Genre: Young Adult Paranormal
Series: The Cahill Witch Chronicles, Book One
Format: Paperback
Pages: 352 pages
Source: Purchased
Buy It: Amazon | Book Depository
Rating: 
Everybody thinks Cate Cahill and her sisters are eccentric. Too pretty, too reclusive, and far too educated for their own good. But the truth is even worse: they're witches. And if their secret is discovered by the priests of the Brotherhood, it would mean an asylum, a prison ship–or an early grave. Then Cate finds her mother's diary, and uncovers a secret that could spell her family's destruction. Desperate to find alternatives to their fate, Cate starts scouring banned books and questioning rebellious new friends, all while juggling tea parties, shocking marriage proposals, and a forbidden romance with the completely unsuitable Finn Belastra. But if what her mother wrote is true, the Cahill girls aren't safe–not even from each other.
---
I loved Born Wicked so much. This novel follows our main character Cate, in an early 1900s society in which women are punished for being witches. It has a very Salem Witch trials feel, but isn't quite as harsh as those times. Women (most of which are not actually witches) are punished by being sent to asylums/prisons; with your occasional "random" disappearance. This is also a time when being a woman in this society was very difficult. Our main character is a witch trying to protect herself and her sisters (mostly her sisters) but also fit into society; juggling being a witch and being pressured to choose either marriage or joining the Sisterhood.
The writing is fast paced and was just really fun to read.  The characters were pretty much perfect in their roles. I did at times want to strangle Cate's sister Maura. I really enjoyed Cate as a main character. There were times where I thought maybe she was being a little too harsh, but with everything she has to deal with, I thought it was realistic she might act that way. Cate has so much responsibility. Trying to protect her sisters and figure out all of the obstacles she is presented. She's very selfless, which I admire, but I really wanted her to just do something for herself for once. It's not a privilege that is available to her.
As much as I would love to talk about the love interest, I can't. I can't really tell you who it is, because spoilers, but ugh I just loved him so much. There is a bit of a love triangle in this, but one side of it is pretty much just that, one sided.
Overall, I'd definitely recommend it to people who love young adult paranormal. Again, it does have the historical fiction thrown in there too. I cannot wait to find out what happens in the next two books.
*The image and synopsis were both taken from Goodreads. Clicking on the "add to goodreads" image above will take you to the Goodreads page for this book.*