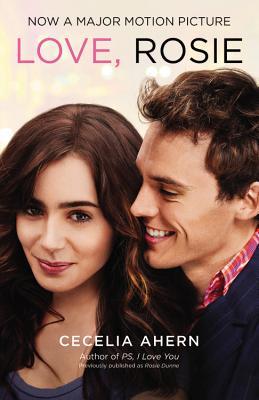 Publication Date: November 1, 2004
Publisher: Hyperion
Genre: Adult Contemporary
Format: Kindle eBook
Pages: 512 pages
Source: Purchased
Buy It: Amazon | Book Depository
Rating: 
Rosie and Alex are destined for one another, and everyone seems to know it but them. Best friends since childhood, their relationship gets closer by the day, until Alex gets the news that his family is leaving Dublin and moving to Boston. At 17, Rosie and Alex have just started to see each other in a more romantic light. Devastated, the two make plans for Rosie to apply to colleges in the U.S.
She gets into Boston University, Alex gets into Harvard, and everything is falling into place, when on the eve of her departure, Rosie gets news that will change their lives forever: She's pregnant by a boy she'd gone out with while on the rebound from Alex.
Her dreams for college, Alex, and a glamorous career dashed, Rosie stays in Dublin to become a single mother, while Alex pursues a medical career and a new love in Boston. But destiny is a funny thing, and in this novel, structured as a series of clever e-mails, letters, notes, and a trail of missed opportunities, Alex and Rosie find out that fate isn't done with them yet.
---
I don't know what I was expecting when I jumped head first into Love, Rosie. But this, this was not it. This was so much more than what I was expecting. I hadn't heard of Love, Rosie before seeing the trailer for the movie. After seeing the trailer, I decided to look into the book and was expecting something much lighter. Lighter may not be the right word, but it's the only one I can find to fit what I'm thinking right now.
This was a fantastic novel. The writing style is different than what I'm used to. The story is told completely (aside from the last chapter) through letters, emails, IMs, etc. I'm not going to say it's not something I've seen before, because I have. However, it was so well done. Now, it did take me a little while to get used to; which made me read a little slower than perhaps I do with other contemporaries, but that was okay. The only real complaint I have about this book is that the story format sometimes made it difficult to tell how much time had passed from chapter to chapter. It was generally something that was fixed in a fair amount of time, so it didn't really bother me. It was just a little confusing.
This book made me feel an array of emotions, and I absolutely love when a book can do that. I was happy, I was mad, I was sad, and I really just wanted to smack Rosie and Alex on the back of the heads for being so silly. This novel never really took on a cheesy aspect for me, which I thought was fantastic. That may be because it's intended for adult audiences when generally I read mostly young adult contemporary, but it was definitely a nice change.
Overall, I really loved this book and would recommend it to just about anyone. Especially those of you who love contemporary novels. Like I said above, this book never really came off as cheesy for me, so if that's something you worry about, I think you'll be A okay to read Love, Rosie.
*The image and synopsis were both taken from Goodreads. Clicking on the "add to goodreads" image above will take you to the Goodreads page for this book.*