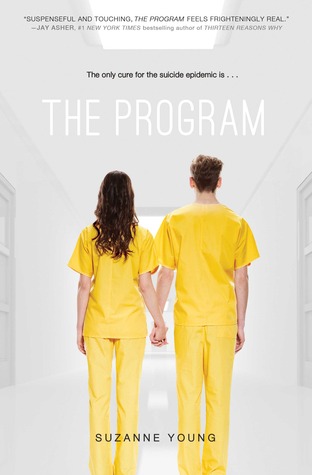 Publication Date: April 30th, 2013
Publisher: Simon Pulse
Genre: Young Adult Dystopian
Series: The Program Duology, Book One
Format: Hardcover
Pages: 405 pages
Source: Purchased
Buy It: Amazon | Book Depository
Rating: 
In Sloane's world, true feelings are forbidden, teen suicide is an epidemic, and the only solution is The Program.
Sloane knows better than to cry in front of anyone. With suicide now an international epidemic, one outburst could land her in The Program, the only proven course of treatment. Sloane's parents have already lost one child; Sloane knows they'll do anything to keep her alive. She also knows that everyone who's been through The Program returns as a blank slate. Because their depression is gone—but so are their memories.
Under constant surveillance at home and at school, Sloane puts on a brave face and keeps her feelings buried as deep as she can. The only person Sloane can be herself with is James. He's promised to keep them both safe and out of treatment, and Sloane knows their love is strong enough to withstand anything. But despite the promises they made to each other, it's getting harder to hide the truth. They are both growing weaker. Depression is setting in. And The Program is coming for them.
---
Trigger warnings for subjects of depression and suicide. If this triggers you in any way, I do not recommend picking this book up. Please beware and take care of yourselves. 

This book is very heart breaking, in a very real way. It deals with very sensitive subjects. I am not exaggerating in any way by telling you that my heart ached the entire time I read this book. It is an incredibly sad and frustrating read. They take everything from these characters who already have so little to give.
I really enjoyed the characters overall. They filled their roles nicely, even if that was what made the book frustrating at times. James was so incredibly caring and protective of Sloane. I really enjoyed Sloane's character too, aside from a few minor things. For instance, her crying. Although it was very understandable, and I do not blame her even a little bit for crying; it was like she forgot or just didn't really seem to care how dangerous it was.
The romance between James and Sloane was pretty perfect. Other than this thing that I can't say because it is most definitely a spoiler. They are together at the beginning of the book, but we also get to see how they got together. What brought them together, and how protective of each other they are. I really enjoyed the flashbacks of their relationship.
My biggest complaint about this book would have to be the epilogue. I'm just really lost on what the epilogue was supposed to show/tell us. Aside from the people that were in it. There were a few other, minor things; such as the level of teen angst in this book. Though I do understand that there is no way to make this plot work without it.
Overall, I really enjoyed this book and would recommend it to people who like young adult dystopian (with a little bit of science fiction thrown in).
*The image and synopsis were both taken from Goodreads. Clicking on the "add to Goodreads" image above will take you to the Goodreads page for this book.*