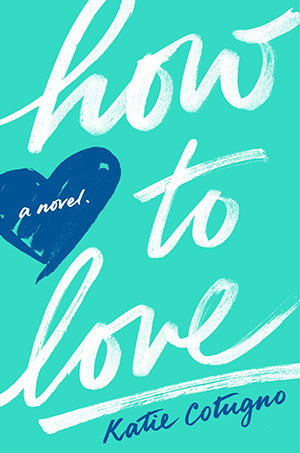 Publication Date: October 1st, 2013
Publisher: Balzer + Bray
Genre: Young Adult Contemporary
Format: Hardcover
Pages: 389 pages
Source: Purchased
Buy It: Amazon | Book Depository
Rating: 
Before:
Reena Montero has loved Sawyer LeGrande for as long as she can remember: as natural as breathing, as endless as time. But he's never seemed to notice that Reena even exists until one day, impossibly, he does. Reena and Sawyer fall in messy, complicated love. But then Sawyer disappears from their humid Florida town without a word, leaving a devastated—and pregnant—Reena behind.
After:
Almost three years have passed, and there's a new love in Reena's life: her daughter, Hannah. Reena's gotten used to being without Sawyer, and she's finally getting the hang of this strange, unexpected life. But just as swiftly and suddenly as he disappeared, Sawyer turns up again. Reena doesn't want anything to do with him, though she'd be lying if she said Sawyer's being back wasn't stirring something in her. After everything that's happened, can Reena really let herself love Sawyer LeGrande again?
---
I didn't have high expectations going into this book. I had heard a lot of mixed reviews, and from what I have seen, that remains the case. You either love this book, or you hate it. I happen to be one of the people who absolutely loved this book. I was very hesitant to read this, but I am so incredibly glad I did. I loved the characters in this book. I can however, see why some people would not love them.
I really enjoyed the writing and the format in which this story was told. You have chapters from before she had her daughter, and chapters from after she has her daughter. I really enjoyed watching her character develop not only in the sections by themselves, but also the change from the before section to the after section. I thought the story was beautifully told and very realistic. I enjoyed that Reena and Sawyer aren't the type of characters you would typically see from this plot line. Meaning that they weren't from a "rough" neighborhood where they struggled for a good portion of their lives. Though don't get me wrong, they definitely have their struggles and short comings in this book.
I wish I had more to say about why I love this book. But then we'd get in to spoilers, and I'm really not into spoiling things for people. But what it mostly boils down to is character development and writing. The two reasons over anything else, that I love this book. Sawyer and Reena both go through some crappy stuff in the before section of this book. And watching them get from there to the after was an amazing experience. Yeah, Sawyer is pretty shitty in the before section. It's getting from the "before" to the "after" that is the important part.
Overall, I really loved this book and would recommend it to anybody who likes a contemporary that isn't quite as cute and fluffy. It's more on the gritty side of YA contemporary, and it definitely isn't picture perfect. But it made me feel all of the feels.
*The image and synopsis were both taken from Goodreads. Clicking on the "add to goodreads" image above will take you to the Goodreads page for this book.*