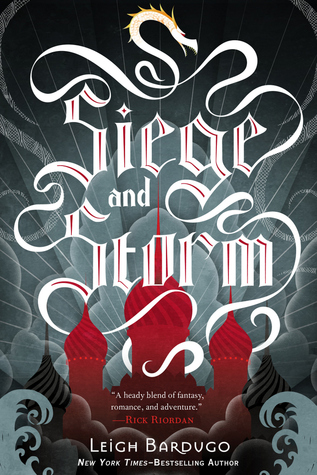 *WARNING: Possible spoilers for the previous book.*
Publication Date: June 4th, 2013
Publisher: Henry Holt and Co.
Genre: Young Adult Fantasy
Series: The Grisha Trilogy, Book Two
Format: Hardcover
Pages: 435 pages
Source: Purchased
Buy It: Amazon | Book Depository
Rating: 
Darkness never dies.
Hunted across the True Sea, haunted by the lives she took on the Fold, Alina must try to make a life with Mal in an unfamiliar land. She finds starting new is not easy while keeping her identity as the Sun Summoner a secret. She can't outrun her past or her destiny for long.
The Darkling has emerged from the Shadow Fold with a terrifying new power and a dangerous plan that will test the very boundaries of the natural world. With the help of a notorious privateer, Alina returns to the country she abandoned, determined to fight the forces gathering against Ravka. But as her power grows, Alina slips deeper into the Darkling's game of forbidden magic, and farther away from Mal. Somehow, she will have to choose between her country, her power, and the love she always thought would guide her–or risk losing everything to the oncoming storm.
---
I really enjoyed Shadow and Bone. Siege and Storm, however? I loved it. Alina and Mal are on the run from The Darkling. The Darkling survived the attack on the Shadow Fold and he emerges with a brand new power, one that frankly would scare the living shit out of me if he were real. I'll be honest, I love the Darkling. Though I'm definitely one to like the unlikable characters and/or the romances that will never be. (I have a soft spot for forbidden love. What can I say?) Things get completely insane in this book, to put it lightly. I'm not entirely sure who I'm supposed to trust right now.
Before I get into a more, in-depth kind of look at the characters, I'm just going to lay it all out there. I can't stand Mal. He wasn't my favorite in Shadow and Bone, and he was just really whiny in Siege and Storm. I just *grumbles*. I'm not a fan. I don't really know what else to say about him. However, I really enjoyed Alina's character in this second book. She becomes a little more power hungry and it's an interesting development that could pay off well with more character development and the movement of the plot. Especially with that ending!
I'm very much Team Sturmhond. (Also strangely still Team Darkling. I don't think I'll win in either case.) I absolutely love Sturmhond as a character, even if you set aside the fact that he's a pirate. (And why would you want to set that aside? Hell yeah! Pirates!) He's a kind of humorous character and for me, was very easy-to-love. The Darkling is sadly lacking in this second installment. He was in bits and pieces, mostly in Alina's dreams; something that was super interesting for me. I really enjoyed those scenes. I just really love his character, he's just so evil. I'm really hoping to find out a little more about his backstory; in the next book maybe?
Overall, I loved this book and would most definitely recommend it. I apologize if this review is a little disjointed and doesn't really have much structure. I've been trying to write this review for a while and I've been really struggling with it. Let's be honest, this was less of a review and more of an "I love everybody! Except for Mal!" I really loved this book; and most of why I loved it is spoilers so I couldn't really tell you. Finding things I could tell you and trying not to gush was really difficult.
*The image and synopsis were both taken from Goodreads. Clicking on the "add to Goodreads" image above will take you to the Goodreads page for this book.*