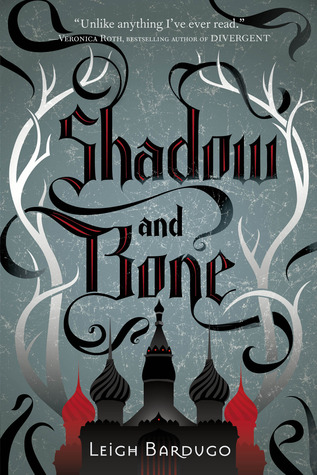 Publication Date: June 5th, 2012
Publisher: Henry Holt and Co.
Genre: Young Adult Fantasy
Series: The Grisha Trilogy, Book One
Format: Hardcover
Pages: 358 pages
Source: Purchased
Buy It: Amazon | Book Depository
Rating: 
Surrounded by enemies, the once-great nation of Ravka has been torn in two by the Shadow Fold, a swath of near impenetrable darkness crawling with monsters who feast on human flesh. Now its fate may rest on the shoulders of one lonely refugee.
Alina Starkov has never been good at anything. But when her regiment is attacked on the Fold and her best friend is brutally injured, Alina reveals a dormant power that saves his life—a power that could be the key to setting her war-ravaged country free. Wrenched from everything she knows, Alina is whisked away to the royal court to be trained as a member of the Grisha, the magical elite led by the mysterious Darkling.
Yet nothing in this lavish world is what it seems. With darkness looming and an entire kingdom depending on her untamed power, Alina will have to confront the secrets of the Grisha . . . and the secrets of her heart.
---
I really, really enjoyed this book. The world is crafted beautifully, plus there is an awesome map in the front of the book. I love books with maps. Leigh Bardugo's writing is really easy to follow and made this a fairly quick read. Shadow and Bone is set in a fantasy world called Ravka that is basically an alternate Russia. I think the thing I loved about the world the most is that even though it had this, almost rustic feel to it, it also felt slightly modern. That might not make sense, but it's the best way I can describe it. I think a big thing that contributed to this feeling for me was the fact that in the First Army (the human army), women were a part of that army. While I expected it from the Second Army (the Grisha/magic like army), it was extremely refreshing to see them in a human army. This, at least from the books that I have read in the past, is not something you see often in fantasy novels.
I love how some of the characters in this novel aren't extremely reliable. I was left at the end of the novel unsure of who I could trust, and the little bit of an edge like that really added something for me. There was a character that I still really want to like, that I do like, even if I know I probably shouldn't. I absolutely love the main character, Alina. I really like strong female characters, and she definitely fits in that category. When it comes to her best friend Mal, I like him. I just don't love him. I found myself really kind of wishing he had stayed as just the best friend and not a love interest, but I didn't hate their relationship either. I just felt slightly indifferent about it.
I really loved the Grisha aspect of the novel. It was kind of magic, but not quite, and I found it super interesting. There were a few twists and turns that I definitely wasn't expecting. The only real complaint I have is we're not given a whole lot of information about the Fold. You find out who created it, but I had a really hard time picturing it in my mind. I know it was supposed to be complete darkness, so maybe that was the point. But it just felt a little lacking in that department.
Overall, I really enjoyed this book and would definitely recommend it. I already own the next two books in the series, and I've already read the second book (it gets SO GOOD).
*The image and synopsis were both taken from Goodreads. Clicking on the "add to Goodreads" image above will take you to the Goodreads page for this book.*