Here are the rules:
Grab your current read.
Open to a random page.
Share two (2) "teaser" sentences from somewhere on that page.
Be careful NOT TO INCLUDE SPOILERS. (Make sure what you share doesn't give too much away, you don't want to ruin the book for others.)
Share the title and author too, so that readers and other TT participants can add the book to their to be read lists if they want. (You can directly access the Goodreads page from this post by clicking on the title and author of the book, posted just below this.)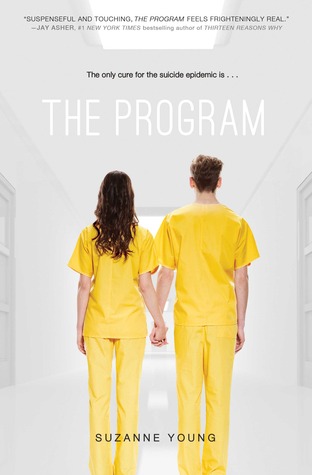 The Program by Suzanne Young
In Sloane's world, true feelings are forbidden, teen suicide is an epidemic, and the only solution is The Program.
Sloane knows better than to cry in front of anyone. With suicide now an international epidemic, one outburst could land her in The Program, the only proven course of treatment. Sloane's parents have already lost one child; Sloane knows they'll do anything to keep her alive. She also knows that everyone who's been through The Program returns as a blank slate. Because their depression is gone—but so are their memories.
Under constant surveillance at home and at school, Sloane puts on a brave face and keeps her feelings buried as deep as she can. The only person Sloane can be herself with is James. He's promised to keep them both safe and out of treatment, and Sloane knows their love is strong enough to withstand anything. But despite the promises they made to each other, it's getting harder to hide the truth. They are both growing weaker. Depression is setting in. And The Program is coming for them.
"My heart races as I sit, not looking back at him again. I wonder if I'm about to get flagged. Please, God. Don't let them take me." -pg. 80