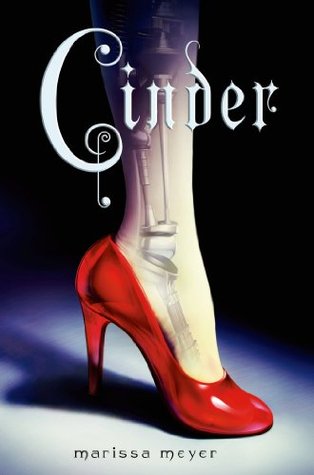 Publication Date: January 3rd, 2012
Publisher: Feiwel & Friends
Genre: Young Adult Science Fiction
Series: The Lunar Chronicles, Book One
Format: Hardcover
Pages: 390 pages
Source: Purchased
Buy It: Amazon
Rating: 
Humans and androids crowd the raucous streets of New Beijing. A deadly plague ravages the population. From space, a ruthless lunar people watch, waiting to make their move. No one knows that Earth's fate hinges on one girl.
Cinder, a gifted mechanic, is a cyborg. She's a second-class citizen with a mysterious past, reviled by her stepmother and blamed for her stepsister's illness. But when her life becomes intertwined with the handsome Prince Kai's, she suddenly finds herself at the center of an intergalactic struggle, and a forbidden attraction. Caught between duty and freedom, loyalty and betrayal, she must uncover secrets about her past in order to protect her world's future.
---
I am and always will be a huge fan of fairy tale retellings, and Cinder definitely did not disappoint in this area. Cinder was a fantastic Cinderella retelling. This retelling paralleled a lot to the original fairy tale without making it seem like the same thing again. The relationships between some of the characters is different, along with the addition of cyborgs, androids, an entire species of people living on the planet, and so much more. Cinder is a teenage cyborg, who runs a mechanic booth at the local market in New Beijing. She meets the handsome Prince Kai in the market one day, when he comes to her shop to have one of his robots repaired. From there, Cinder's life ends up kind of upside down.
I absolutely loved the characters in this book. They were all done fantastically. I enjoyed the budding relationship with Prince Kai and Cinder quite a lot. Their playful banter on top of the fact that they didn't instantly fall into each others arms. Meyer did an amazing job with this book. She painted a perfect picture of New Beijing for me. The descriptions in novels should be good enough to make you feel like you've been transported into the story, and she did that. One of my favorite features Cinder has as a cyborg, is the computer that's like, implanted in her brain.
Overall, I really loved this book. If you enjoy fairy tale retellings and science fiction novels this is definitely for you.
*The image and synopsis were both taken from Goodreads. Clicking on the "add to goodreads" image above will take you to the Goodreads page for this book.*