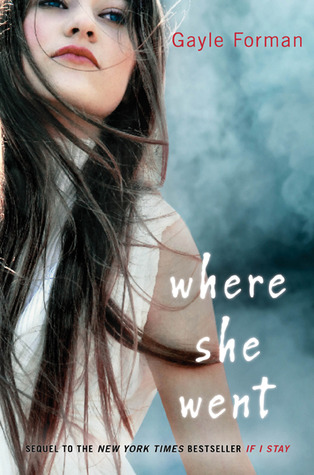 *WARNING: Possible spoilers for the previous book.*
Publication Date: January 1st, 2011
Publisher: Speak
Genre: Young Adult Contemporary
Series: If I Stay Duology, Book Two
Format: Paperback
Pages: 264 pages
Source: Purchased
Buy It: Amazon
Rating: 
It's been three years since the devastating accident . . . three years since Mia walked out of Adam's life forever.
Now living on opposite coasts, Mia is Juilliard's rising star and Adam is LA tabloid fodder, thanks to his new rock star status and celebrity girlfriend. When Adam gets stuck in New York by himself, chance brings the couple together again, for one last night. As they explore the city that has become Mia's home, Adam and Mia revisit the past and open their hearts to the future – and each other.
---
I really loved the conclusion to this duology. While I don't think Where She Went was as good as If I Stay, it was still a really great book. Where She Went picks up about three years after Mia wakes up from her coma after the accident. This book however, is told from Adam's point of view instead of Mia's. I really enjoyed reading from Adam's point of view in this book. He was pretty broody, which I thought was fairly understandable, at least to a certain degree.
I really enjoyed learning more about Adam, learning about his life in the three years since the end of If I Stay, and experiencing his thoughts and feelings as he and Mia meet again. This book did a fantastic job at answering the questions I had at the end of If I Stay as well as closing the story and it's loose ends. It also presented some new and very different events and questions and I thought it was very well done.
The biggest thing I noticed between these two books was that they were completely different levels of heart wrenching. If I Stay was about a girl who lost her family in a car wreck. The sadness was a little more subtle, through memories and flashbacks of all the good and bad moments of her life. Showing you glimpses of everything she was losing if she was to stay; but also giving you hints of everything she would give up if she left.
Where She Went was about two people, who loved each other more than anything, that went their separate ways. And as they reconnect, all the painful and wonderful things that brings up between them. The thing they have in common? They're both about loss, just in a different way.
Overall I really enjoyed this book and would definitely recommend reading it. It concludes the story nicely, and doesn't leave you with any questions unanswered.
*The image and synopsis were both taken from Goodreads. Clicking on the "add to goodreads" image above will take you to the Goodreads page for this book.*