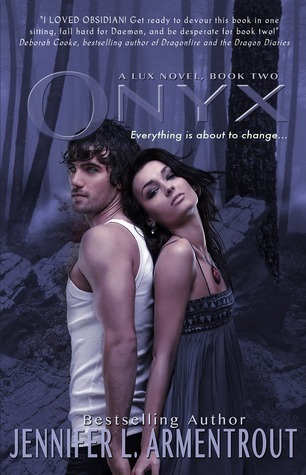 *WARNING: Possible spoilers for the previous book.*
Publication Date: August 14th, 2012
Publisher: Entangled Teen
Genre: Young Adult Science Fiction
Series: The Lux Series, Book Two
Format: Kindle eBook
Pages: 416 pages
Source: Purchased
Buy It: Amazon
Rating: 
Being connected to Daemon Black sucks…
Thanks to his alien mojo, Daemon's determined to prove what he feels for me is more than a product of our bizarro connection. So I've sworn him off, even though he's running more hot than cold these days. But we've got bigger problems.
Something worse than the Arum has come to town…
The Department of Defense are here. If they ever find out what Daemon can do and that we're linked, I'm a goner. So is he. And there's this new boy in school who's got a secret of his own. He knows what's happened to me and he can help, but to do so, I have to lie to Daemon and stay away from him. Like that's possible. Against all common sense, I'm falling for Daemon. Hard.
But then everything changes…
I've seen someone who shouldn't be alive. And I have to tell Daemon, even though I know he's never going to stop searching until he gets the truth. What happened to his brother? Who betrayed him? And what does the DOD want from them—from me?
No one is who they seem. And not everyone will survive the lies…
---
This book was a fantastic continuation of the Lux series. Jennifer L. Armentrout managed to write another book that was fantastic and entertaining from start to finish. I stand by my original statement that these books weren't written to be literary masterpieces. But they are great nonetheless. Jennifer L. Armentrout is amazing at writing books that are easy to love and hard to put down. This book, like the first, I could not put down and didn't until I finished it at two in the morning.
Onyx showed up Obsidian by being full of even more action, emotion, and romance. There were even more twists and turns in the second book that I think were another big part of why I wasn't able to put this book down. And the characters. Katy, hands down, is still my favorite. Her character development in this book is fantastic. Yes, at times she's pretty frustrating but the end result was well worth it. Daemon remains an asshole to a degree, but his character development was pretty great too. You get to see a little more of his caring/lovable side which was really good.
I had pretty high expectations for Onyx, and it met them all, if not went above them. It gave me all of the feels and was just fantastic. My only issue with the book, wasn't the story itself but my ebook copy of it. I expect a few grammar errors here and there, but my copy seemed to be riddled with them. It was kind of off putting and at the time, almost made me rate the book lower. I was able to set that aside because I love the story and the characters so much, but it was kind of frustrating (and not in a good way).
Overall, I absolutely loved this book and can't wait to get my hands on the next one. Again, I would recommend it if you like paranormal/science fiction romance. If there's any chance you weren't sure about the first book, I would definitely give the series another try by reading Onyx.
*The image and synopsis were both taken from Goodreads. Clicking on the "add to goodreads" image above will take you to the Goodreads page for this book.*