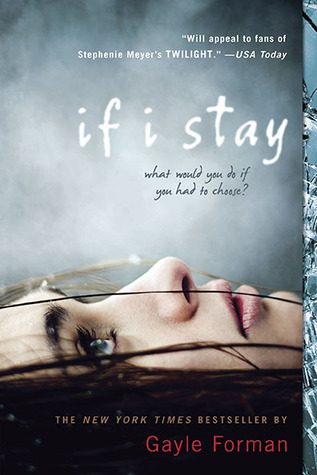 Publication Date: April 2, 2009
Publisher: Speak
Genre: Young Adult Contemporary
Series: If I Stay Duology, Book One
Format: Paperback
Pages: 234 pages
Source: Purchased
Buy It: Amazon
Rating: 
On a day that started like any other, Mia had everything: a loving family, a gorgeous, admiring boyfriend, and a bright future full of music and full of choices. In an instant, almost all of that is taken from her. Caught between life and death, between a happy past and an unknowable future, Mia spends one critical day contemplating the only decision she has left. It is the most important decision she'll ever make.
---
I've wanted to start this duology for awhile, probably since I read my first Gayle Forman book, Just One Day, at the beginning of the year. I love Forman's writing and If I Stay was no exception, I loved it more than Just One Day. Probably because it was a more emotional read and those type of books definitely stick with me more. If I had been in a more stable emotional state, I would have finished this book in one sitting. Let me clarify on that so you don't think I'm crazy. I started to read this book on my father's birthday, which was a horrible idea. Top an already very emotional day for me with this very emotional story and I was bawling before I made it to page one hundred.
If I Stay is about a teenage girl named Mia. She is a pretty average girl; she has a loving family and a loving boyfriend. She loves to play the cello and is very talented, so much so that she may be going to Julliard in the fall. Until a horrible car wreck lands her in a coma. This happens in the very beginning of the book and from there we go from Mia's point of view while she's in the coma and flashbacks of her life. I really enjoyed the flashbacks. I think it was a good way to kind of intertwine some happiness in with the sad. The story follows Mia as she makes the really tough decision whether to live or to die.
Gayle Forman took characters that we knew close to nothing about, and had something completely and utterly tragic happen to them within the first three (this might be the wrong number, I'm tired) chapter like things (it's not separated by chapters, it is separated by times of the day). And then she used the flashbacks as tool for you to learn more about these characters and fall in love with them. I loved all of the characters in this novel, I thought they were very well written.
Overall, I really loved this book. If you're a fan of contemporary you should definitely pick this up. But maybe have some tissues just in case of emergencies. I'll definitely be going to see the movie when it comes to my local movie theater in a couple of weeks. I also plan to bawl my eyes out.
*The image and synopsis were both taken from Goodreads. Clicking on the "add to goodreads" image above will take you to the Goodreads page for this book.*