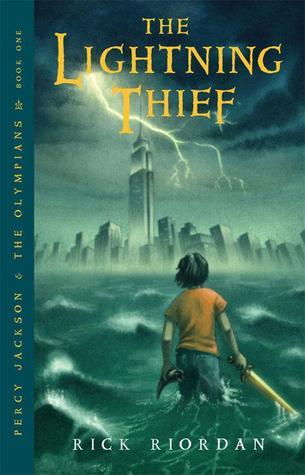 Publication Date: March 21st, 2005
Publisher: Disney Hyperion
Genre: Middle Grade Fantasy
Series: Percy Jackson & the Olympians, Book One
Format: Paperback
Pages: 375 pages
Source: Purchased
Buy It: Amazon
Rating: 
Percy Jackson is about to be kicked out of boarding school… again. And that's the least of his troubles. Lately, mythological monsters and the gods of Mount Olympus seem to be walking straight out of the pages of Percy's Greek mythology textbook and into his life. And worse, he's angered a few of them. Zeus' master lightning bolt has been stolen, and Percy is the prime suspect.
Now Percy and his friends have just ten days to find and return Zeus' stolen property and bring peace to a warring Mount Olympus. But to succeed on his quest, Percy will have to do more than catch the true thief: he must come to terms with the father who abandoned him; solve the riddle of the Oracle, which warns him of betrayal by a friend; and unravel a treachery more powerful than the gods themselves.
---
If you were ever the weird kid in school, there is no need to worry because you're probably actually an awesome kick butt demigod. I wish I had read this when I was younger. I think it would have been one of those books that I read again and again. But on top of being a book that I think would be an amazing self confidence boost to any kid who is a little strange, it's an amazing story. The characters are fantastic, the world that Rick Riordan built is amazing, and the premise alone was enough to get me to stay up way past my bedtime to read this when I had first started it. I literally had to force myself to put it down, half way through the book at one in the morning.
This is a fast-paced, exciting fantasy novel revolving around Greek Mythology. And do not fret, you don't need to know about the myths to understand the book. The author provides just enough information about them to make you understand what is going on in the book. I absolutely love the friendships in this book, both between Percy and Grover and Percy and Annabeth. I love Rick Riordan's writing style, the story had a very fluid movement, the characters were enjoyable, as was the plot. I cannot wait to pick up the next book.
Overall, I really enjoyed it and would recommend it to anyone who enjoyed Harry Potter or who enjoys Greek Mythology. While the target audience is around 5th to 9th grade, I think it's written well enough that older audiences would enjoy it also.
*The image and synopsis were both taken from Goodreads. Clicking on the "add to goodreads" image above will take you to the Goodreads page for this book.*