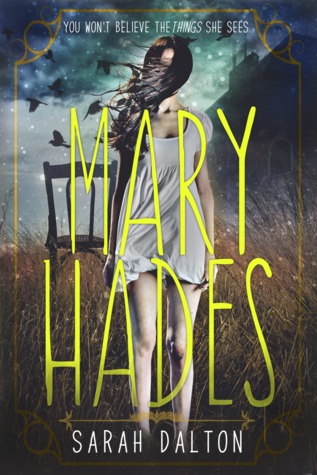 *WARNING: Possible spoilers for My Daylight Monsters ahead.*
Publication Date: April 30th, 2014
Publisher: Createspace (Self-Published)
Genre: Young Adult Horror
Series: The Mary Hades Series, Book One
Format: Kindle eBook
Pages: 286 pages
Source: Author
Buy It: Amazon
Rating: 
Not many seventeen-year-old girls have a best friend who's a ghost, but then Mary Hades isn't your average teenager.
Scarred physically and mentally from a fire, her parents decide a holiday to an idyllic village in North Yorkshire will help her recover. Nestled in the middle of five moors, Mary expects to have a boring week stuck in a caravan with her parents. Little does she know, evil lurks in the campsite…
Seth Lockwood—a local fairground worker with a dark secret—might be the key to uncovering the murky history that has blighted Nettleby. But Mary is drawn to him in a way that has her questioning her judgement.
Helped by her dead best friend and a quirky gay Goth couple, Mary must stop the unusual deaths occurring in Nettleby. But can she prevent her heart from being broken?
---
I generally do not read horror novels. I am a person who gets scared easily and let's face it, I let that be a factor in the books I read and the movies I watch. But when I read the prequel to Mary Hades, My Daylight Monsters, a few months ago I knew that I wanted to continue on with the story. And Mary Hades definitely met my expectations. Now, while I did read the prequel novella, I don't think it's absolutely necessary for you to read it to be able to understand this book. However, I definitely think it helps with filling in some of the background information, and I think it's a great novella.
This novel starts shortly after the end of My Daylight Monsters, Mary is recovering from the fire and she is back home with her parents. We follow Mary, her parents, and her dead best friend Lacey as they go on a camping vacation. Mary, Lacey, and some exciting new characters come across a murderous ghost on a revenge mission. As in the first novel, I loved Sarah Dalton's writing style. I thought the story came to a nice conclusion, it was well written, and I enjoyed the novel throughout. I really enjoyed her characters and I think they work well with the story. This novel was not quite as scary as I was expecting it to be, but towards the end, I found my heart racing quite a lot. I also thought that the romance worked well with the story. What is a vacation without a little fling after all?
Mary was an easy character to like and sympathize with as she struggled over whether to trust her gut or trust what her friend was trying to tell her. As in the prequel, I really loved Lacey. She's very outgoing and outspoken and I love characters like that. She's funny and is more than willing to be there for Mary when she needs her. There were definitely some twists and surprises that I didn't see coming, and I love when a novel does that. I cannot wait to read more of this series.
Overall, I really enjoyed this book. If you like YA paranormal stories, this one is for you.
*I received a copy of this book from the author in exchange for an honest review. Many thanks to Sarah Dalton for giving me this opportunity! The image and synopsis were both taken from Goodreads. Clicking on the "add to Goodreads" image above will take you to the Goodreads page for this book.*