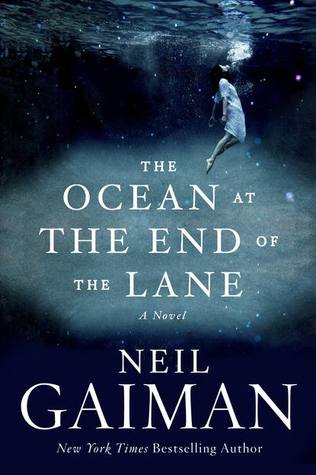 Publication Date: June 18th, 2013
Publisher: William Morrow Books
Genre: Adult Fantasy
Format: Hardcover
Pages: 181 pages
Source: Borrowed from my local library.
Buy It: Amazon
Rating: 
Sussex, England. A middle-aged man returns to his childhood home to attend a funeral. Although the house he lived in is long gone, he is drawn to the farm at the end of the road, where, when he was seven, he encountered a most remarkable girl, Lettie Hempstock, and her mother and grandmother. He hasn't thought of Lettie in decades, and yet as he sits by the pond (a pond that she'd claimed was an ocean) behind the ramshackle old farmhouse, the unremembered past comes flooding back. And it is a past too strange, too frightening, too dangerous to have happened to anyone, let alone a small boy.
Forty years earlier, a man committed suicide in a stolen car at this farm at the end of the road. Like a fuse on a firework, his death lit a touchpaper and resonated in unimaginable ways. The darkness was unleashed, something scary and thoroughly incomprehensible to a little boy. And Lettie—magical, comforting, wise beyond her years—promised to protect him, no matter what.
---
The Ocean at the End of the Lane is a story about a nameless, middle-aged man who returns to his hometown for a funeral. Upon his return, he visits the house of an old friend of his, Lettie Hempstock. And this is where he begins to remember the insane things that happened to him as a child. This was my very first Neil Gaiman book, and it most definitely will not be my last. Gaiman's writing is beautiful, his imagery is on point, and I could really see the things he was telling me. This novel is more about the main character's childhood than anything else, there are perhaps two or three chapters that are actually set in his adult life. I really enjoyed this story. It was unique, creepy, and for the most part did not let me down. Also, this book was extremely quotable, and I love quotable books.
I've heard quite a few people say that this wasn't truly an adult novel. And while I can see where they are coming from, I also have to disagree. There is one little sex scene; that, let's be honest, wasn't even really a sex scene because the main character had no idea what he was seeing so it wasn't described. I think to truly appreciate this book you have to know what it's like to miss childhood. To miss the innocence of thinking that all parents are good, the simplicity of exploring (even if it's your own property), and many other things.
I did have a few small problems with this, but it was nothing major. The first thing that bothered me was the fact that the main character was nameless. I didn't make a huge amount of sense to me, especially seeing as literally everyone else (except maybe his parents) had names. It didn't make sense to me that he was never called by his first name. The second thing that comes to mind is that I didn't like how the relationship with the main character and his parents progressed. Specifically, I mean the events that took place with his father, there wasn't really any resolution to it and that really bothered me. It was almost as if it was ignored and that felt really wrong to me.
"I lay on the bed and lost myself in the stories. I liked that. Books were safer than other people anyway."

-pg. 9

"She was the storm, she was the lightning, she was the adult world with all its power and all its secrets and all its foolish casual cruelty."

-pg. 86
*The image and synopsis were both taken from Goodreads. Clicking on the "add to Goodreads" image above will take you to the Goodreads page for this book.*