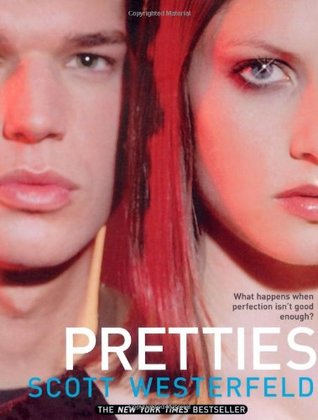 *WARNING: Possible spoilers for the previous book.*
Publication Date: November 2005
Publisher: Simon & Schuster Simon Pulse
Genre: Young Adult Dystopian
Series: The Uglies Series, Book Two
Format: Paperback
Pages: 370 pages
Source: Purchased
Buy It: Amazon
Rating:
Gorgeous. Popular. Perfect. Perfectly wrong.
Tally has finally become pretty. Now her looks are beyond perfect, her clothes are awesome, her boyfriend is totally hot, and she's completely popular. It's everything she's ever wanted.
But beneath all the fun–the nonstop parties, the high-tech luxury, the total freedom–is a nagging sense that something's wrong. Something important. Then a message from Tally's ugly past arrives. Reading it, Tally remembers what's wrong with pretty life, and the fun stops cold.
Now she has to choose between fighting to forget what she knows and fighting for her life–because the authorities don't intend to let anyone with this information survive.
---
Just like the first novel in the Uglies series, I loved this! I thought it was a great read with interesting characters, it was fast paced, and it was nothing that I expected. Now keep in mind that I have actually read this book before. It's been about seven years and I didn't remember most of it. I remembered some of the ending and some other smaller things but for the most part, I did not remember most of this book. So it was almost like reading a book for the first time. I did have a few small problems with this. I originally had rated this with five stars but as I reflected more on it today, I decided it didn't quite meet that five-star mark for me. That's not to say that I did not enjoy it because I did. But the ending felt a little repetitive to me. I will definitely be picking up the sequel but I would really rather it wasn't a repeat of this novel and that's kind of the feeling I got from the ending of this book.
I really liked Tally's character again in this novel. Pretties begins almost immediately after Uglies ends and for me, I thought that worked perfectly. With some small memory issues, a little different personality, and a new face, we had Tally back. Tally struggles a lot through the beginning of this novel because something doesn't quite feel right and for those of you who read the first book you will know why. We are also introduced to a few new characters. The biggest of which is Tally's boyfriend Zane. Zane is a very conflicting character for me because while I really like him and Tally together; I also really like David and Tally together. For a fairly good portion of the book, I wasn't entirely sure why his character had been added to the book as a love interest for Tally because it becomes more evident toward the end of the book. I think their relationship was a good way to show what time and space can do to people. Shay was just as frustrating for me in this second book as she was in the first.
One thing that I definitely appreciate about the first two books of this series is that Westerfeld did a very good job of covering issues that teens face on a regular basis. He's not entirely straight forward about it, you do have to look between the lines slightly. But I enjoy the things that he's hinting at. For example, how superficial society is. Image, or being "pretty", is something that is important to a lot of teens. I'm not saying it's important to all people, but it is a huge part of our society; even if it shouldn't be. Also that it's easy to take the easy way out instead of doing something that say, may make you think, or may change you. It didn't surprise me at all when Peris took the easy way out. It was a good representation of what a good portion of society would do. They would give up anything to be "pretty", desirable, and not have to worry about anything.
Overall, I really enjoyed the second installment of the Uglies series and would definitely recommend picking it up if you liked the first book.
*The image for this review was taken from Goodreads. Clicking on the "add to goodreads" image above will take you to the Goodreads page for this book. The synopsis was taken from the back of my book.*