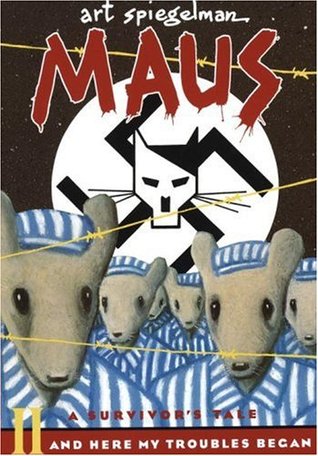 Publication Date: September 1992
Publisher: Pantheon
Genre: Non-Fiction
Series: The Maus Series, Book Two
Format: Paperback
Pages: 136 pages
Source: Purchased
Buy It: Amazon
Rating: 
Acclaimed as a quiet triumph and a brutally moving work of art, the first volume of Art Spieglman's Maus introduced readers to Vladek Spiegleman, a Jewish survivor of Hitler's Europe, and his son, a cartoonist trying to come to terms with his father, his father's terrifying story, and History itself. Its form, the cartoon (the Nazis are cats, the Jews mice), succeeds perfectly in shocking us out of any lingering sense of familiararity with the events described, approaching, as it does, the unspeakable through the diminutive.
This second volume, subtitled And Here My Troubles Began, moves us from the barracks of Auschwitz to the bungalows of the Catskills. Genuinely tragic and comic by turns, it attains a complexity of theme and a precision of thought new to comics and rare in any medium. Maus ties together two powerful stories: Vladek's harrowing tale of survival against all odds, delineating the paradox of daily life in the death camps, and the author's account of his tortured relationship with his aging father. At every level this is the ultimate survivor's tale – and that too of the children who somehow survive even the survivors.
---
I enjoyed the second volume of Maus more than I enjoyed the first. This is mainly to do with the fact that I connected more with the characters in this volume than I did in the first volume. I think because it takes place over a shorter amount of time, you get to understand the relationship between the father and son more, you get to see the character development more. I enjoyed that there was more meta fiction in this volume. You get to see the author/cartoonist struggle with how to write his father's story, how to portray his father, among other things. However throughout this second book I still found I had a problem with this metaphor of the cats and mice. Yes, I understood the obvious that the cats were chasing the mice. But I think it definitely could have been taken further and was a little disappointed to see that this still did not happen in the second volume. Putting that aside, I did really enjoy this and would definitely recommend it.