Here are the rules:
Grab your current read.
Open to a random page.
Share two (2) "teaser" sentences from somewhere on that page.
Be careful NOT TO INCLUDE SPOILERS. (Make sure what you share doesn't give too much away, you don't want to ruin the book for others.)
Share the title and author too, so that readers and other TT participants can add the book to their to be read lists if they want. (You can directly access the Goodreads page from this post by clicking on the title and author of the book, posted just below this.)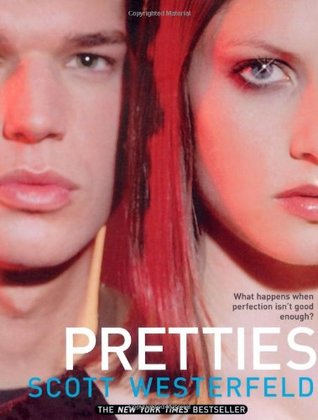 Pretties by Scott Westerfeld
*WARNING: Possible spoilers for the previous book.*
Gorgeous. Popular. Perfect. Perfectly wrong.
Tally has finally become pretty. Now her looks are beyond perfect, her clothes are awesome, her boyfriend is totally hot, and she's completely popular. It's everything she's ever wanted.
But beneath all the fun–the nonstop parties, the high-tech luxury, the total freedom–is a nagging sense that something's wrong. Something important. Then a message from Tally's ugly past arrives. Reading it, Tally remembers what's wrong with pretty life, and the fun stops cold.
Now she has to choose between fighting to forget what she knows and fighting for her life–because the authorities don't intend to let anyone with this information survive.
"No matter how friendly the hunters had become, she was glad they'd discarded the clubs, just in case they changed their minds. After all, if she hadn't fallen into the water, washing the day's mud and muck from her pretty face, Tally doubted she would be alive now." -page 264