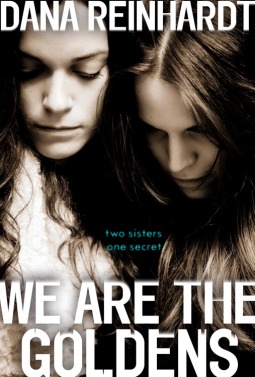 Publication Date: March 27th, 2014
Publisher: Wendy Lamb Books
Genre: Young Adult Contemporary
Format: Kindle eBook
Pages: 208 pages
Source: ARC received from NetGalley and the Publisher
Buy It: Amazon
Rating: 
Nell knows a secret about her perfect, beautiful sister Layla. If she tells, it could blow their world apart.

When Nell and Layla were little, Nell used to call them Nellaya. Because to Nell, there was no difference between where she started and her adored big sister ended. They're a unit; divorce made them rely on each other early on, so when one pulls away, what is the other to do? But now, Nell's a freshman in high school and Layla is changing, secretive. And then Nell discovers why. Layla is involved with one of their teachers. And even though Nell tries to support Layla, to understand that she's happy and in love, Nell struggles with her true feelings: it's wrong, and she must do something about it.
---
I really enjoyed this! At first I wasn't entirely sure how I felt about it, the cover and the synopsis give me two completely different vibes and it threw me off. To be honest, when I first saw the cover I thought it was going to be a horror novel, or have some creepy element. But it isn't and it doesn't. This is a contemporary novel about a girl who is keeping the fact that her sister is dating a teacher secret. For the majority of the book, Nell is very set in protecting this secret for her sister. The main reason she hides this secret is that they're very close and she doesn't want to betray that trust. After that, we see Nell struggle as she tries to decide what is right; whether she should tell someone about this relationship or continue to keep it a secret. I thought the plot was kind of bland, the characters and how they are portrayed are definitely what made this book for me.
The format of this book was very interesting for me. It is told in first person, from the perspective of our main character, Nell. But the entire book is written as if Nell is addressing her sister Layla. At first I wasn't sure how I felt about it, but I ended up really enjoying it. I think it added a lot to Nell's emotions especially when it came to her sister. I also believe it allowed us to see more of the bond between the sisters. I really loved Nell's character, and as a woman who is the younger of two girls in my family, I related to her really well. I also really, really loved Nell and Felix's relationship. It definitely added something to the book, along with the parent/child relationships; they were both very realistic relationships.
Overall, I really enjoyed the novel and would recommend it. The plot for me was lacking slightly, but I think the characters and the relationships definitely made up for it.
I received a copy of this from NetGalley in exchange for an honest review.