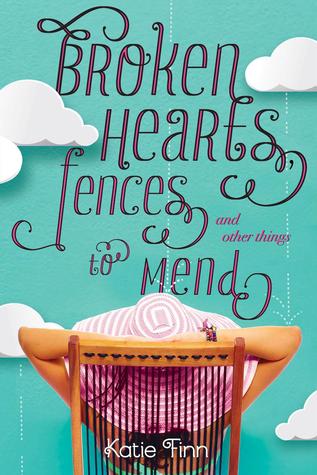 Broken Hearts, Fences, and Other Things to Mend by Katie Finn
Author: Katie Finn
Release Date: May 13th, 2014
Publisher: Feiwel & Friends
Pre-Order It: Amazon
Gemma just got dumped and is devastated. She finds herself back in the Hamptons for the summer—which puts her at risk of bumping into Hallie, her former best friend that she wronged five years earlier. Do people hold grudges that long? 

When a small case of mistaken identity causes everyone, including Hallie and her dreamy brother Josh, to think she's someone else, Gemma decides to go along with it.

Gemma's plan is working (she's finding it hard to resist Josh), but she's finding herself in embarrassing situations (how could a bathing suit fall apart like that!?). Is it coincidence or is someone trying to expose her true identity? And how will Josh react if he finds out who she is? 
My Thoughts: I'm super excited for this book! After reading the synopsis I think this book sounds really funny and interesting! I don't believe I've read anything with a plot like this before, so I'm excited about that too! I've definitely been in a contemporary mood, so this definitely appealed to me!
What is your most anticipated release of May? And do you think Broken Hearts, Fences, and Other Things to Mend sounds good? Why or why not?