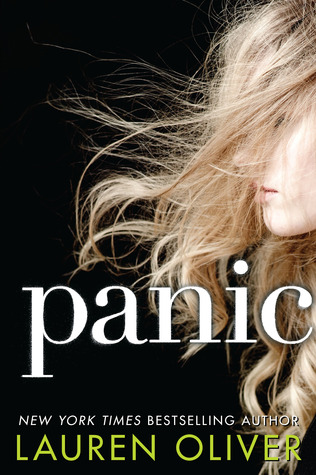 Publication Date: March 4th, 2014
Publisher: Harper Collins
Genre: Young Adult Contemporary
Format: Hardcover
Pages: 408 pages
Source: Purchased
Buy It: Amazon
Rating: 
Panic began as so many things do in Carp, a dead-end town of 12,000 people in the middle of nowhere: because it was summer, and there was nothing else to do.

Heather never thought she would compete in Panic, a legendary game played by graduating seniors, where the stakes are high and the payoff is even higher. She'd never thought of herself as fearless, the kind of person who would fight to stand out. But when she finds something, and someone, to fight for, she will discover that she is braver than she ever thought.

Dodge has never been afraid of Panic. His secret will fuel him, and get him all the way through the game, he's sure of it. But what he doesn't know is that he's not the only one with a secret. Everyone has something to play for.

For Heather and Dodge, the game will bring new alliances, unexpected revelations, and the possibility of first love for each of them—and the knowledge that sometimes the very things we fear are those we need the most.
---
I hate to say it, but I did not enjoy Panic as much as I originally thought I would. It wasn't a bad book, it was definitely enjoyable, but I don't really feel like it left too much of an impression on me. The premise was very interesting, and for the most part was very well executed; I just didn't find the book as exciting as I was told it was going to be. Panic is a game in which that year's seniors in high school are able to participate in. Everyone pays a dollar a day for the school year, and at the end of the year that money is the "pot" for the game of Panic. The game begins the day after graduation and people who choose to participate are put through a series of challenges in which they do illegal things and risk their lives. People have died in previous years playing this game. The pot for this year's group is $67,000. I don't know about you, but I'm not sure that a chance at that money would be enough to make me risk my life in the challenges they were put through.
The book is told in a dual perspective, from our two main characters, Heather and Dodge. It picks up right after they make "the jump" which is the first challenge. Then goes back to earlier that day. It is the only real-time jump in this book and was there to help understand more of why our character Heather made the jump. I enjoyed the format of this book quite a lot. It was broken up into different days of the summer and then each day would have a few chapters, alternating from Heather to Dodge. I really enjoyed the side characters Bishop and Lily but found Natalie quite annoying.
I have heard quite a lot of feedback saying that people loved the challenges in the book and that their heart was racing while reading about them. I did not experience this. I'm not sure why, but the writing did not do much for me in this novel. Not that the writing was horrible or anything like that, it just didn't leave much of an impression. I think the main character Heather was probably the best part of the book for me. I sympathized for her and I loved her character development. I also liked Dodge for the most part; sometimes I found him really frustrating and other times I really liked him.
Overall, I really enjoyed the book. There were some things that definitely could have been better, but I think it's worth a read.